Bright Idea! Wireless Switch Drops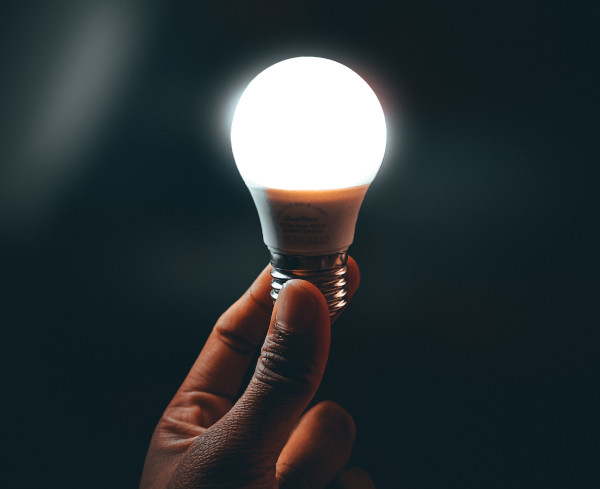 Wireless switches and sensors give flexibility and capabilities unavailable to wired house circuits. A basic "three way" switch circuit for turning a room light "on" and "off" from two locations is simplified by using wireless switches. And, you can have more sophistication with less complexity. Installing a ten-way switch is as simple as a three-way switch with wireless switches.
One of the most valuable uses of wireless switching is for outdoor lighting and circuit activation. After spending time and money to tightly seal and insulate a home, drilling through a wall to run a wire from outside to inside is painful. Wireless switches avoid the need to drill your home into swiss cheese while saving materials and labor. Wireless solutions are also useful for retrofit situations.
The CERV2 has both local wireless communication and WiFi built into its control board. Many of the wireless components listed on our "Options" webpage can also be used without a CERV2. This article gives some examples for using our "EnOcean" battery-free, wireless switches and relays for outdoor lighting and hot water circulation.
Do you have an idea for using wireless switches and actuators? We're happy to answer questions on their use anytime!
Local Wireless Communication Protocols and CERV2 Operation
Local wireless protocols do not depend on WiFi. They are secure and limited to the devices within your home that you choose to link together. Local wireless systems operate even when the internet is down. Each local wireless device has a unique identity, so you won't be turning your neighbor's things on and off. Our many years of experience has proven the durability and reliability of wireless sensors and actuators in harsh climatic conditions.
Build Equinox uses the EnOcean wireless protocol for our expanding array of switches, sensors and actuators. The EnOcean protocol is similar to Zigbee and Z-wave protocols, and has been around for quite a while (we have been using EnOcean since 2005). An advantage of EnOcean is its ultra-low activation power that allows switches and sensors to be "ambient powered". Wall switches, for example, use finger power to generate enough energy for the switch to chirp a message across the length of a house. Other sensors have photocells or tap power from connected electrical circuits.
We designed EnOcean into the CERV2's smart controls, making it a "hub" for receiving and sending signals among an array of sensors and actuators. We develop control algorithms to allow the CERV2 to manage multiple operations, including remote heating and cooling systems with our CERV-IR-T wireless thermostat interface, actuate an array of supply and return dampers with the CERV-IR wireless relay interface, and control moisture with dehumidifiers and humidifiers. Our list of EnOcean devices such as an occupancy sensor, high and low voltage relays, and door/window sensors continues to grow.
The CERV2's plug-n-play controls simplify linking sensors and actuators, allowing the CERV2 to conveniently manage IAQ and comfort (see our recent articles on kitchen ventilation and bathroom ventilation). Matt Taylor, a homeowner who added a minisplit heat pump in his home, wrote an article describing the process for linking a CERV-IR-T to a thermostat interface.
Outdoor Lighting
Equinox House is now 12 years old! Wireless EnOcean relays installed in 2010 for front and backyard lighting are a bit dirty (see photo), but have worked flawlessly. These relays are located in the garage near the electrical distribution panel, and are connected to the homerun circuits for the front and back lights. The relays are an older style that could be mounted external to a junction box using the ½" conduit knockouts.
A few years after building Equinox House, we added a wireless switch to a garage light circuit in order to have a switch in the house rather than in the original wired switch's garage location. An EnOcean relay was connected to the lighting circuit in an existing junction box for the circuit. The relay was "trained" to a wireless switch that is now located inside the house. The photos below show the relay in the junction box and the wireless switch after the relay was linked to the switch.
We added two more wireless relays for operating an outdoor light and overhead fan in a screen porch added to Equinox House in 2017. Another example shows how one homeowner with a brick home used our switches and relays for operating lighting on a deck added to their home.
Wireless switch drops inside a home are a benefit, too. Wireless switches can be mounted on walls where wired switches cannot, such as pocket door walls and stud wall framing areas. The switches can be embedded in wallboard as they are only ½" thick, surface mounted, or thrown in a drawer or closet.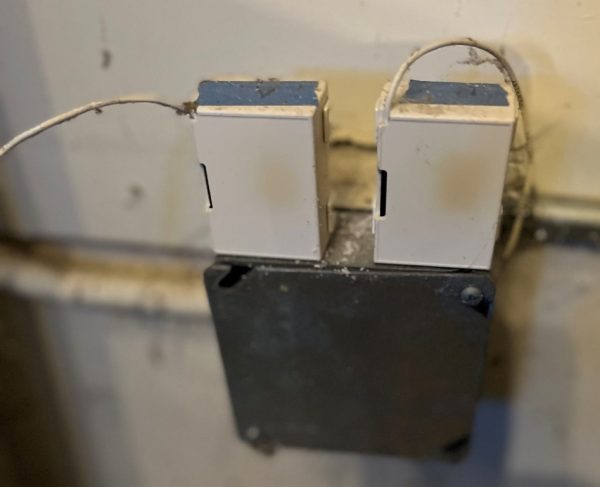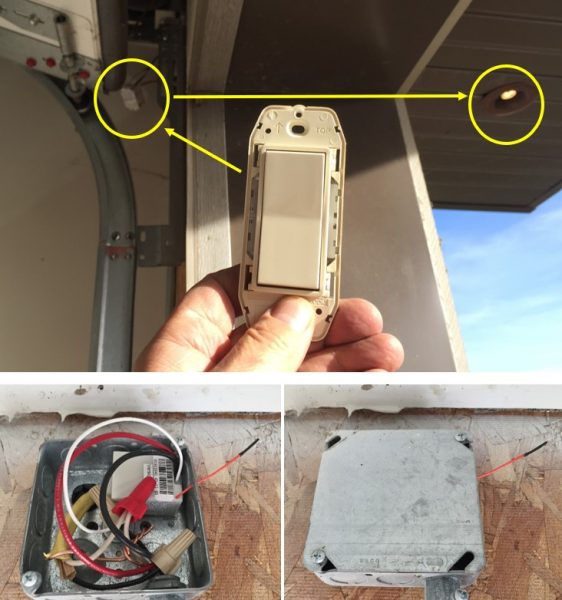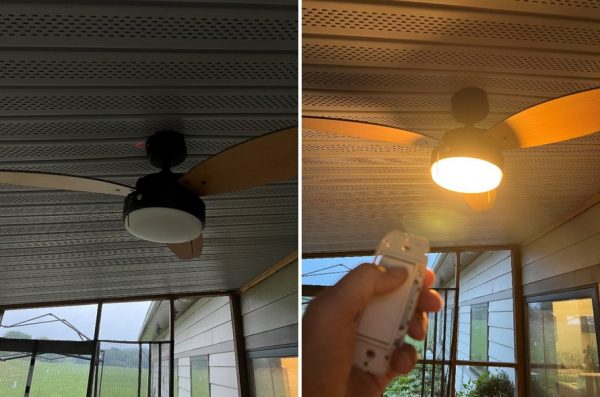 Beyond Lighting
The sky's the limit! The photos below show a hot water circulation pump that is automatically activated by an occupancy sensor whenever someone enters the master bathroom, or the pump is activated when someone in the kitchen presses the wireless wall switch. Water waste and wait time due to "running the water" until hot are eliminated.
You don't have to have a CERV2 to try out our wireless EnOcean devices…just an idea for improving your home's operation!