Exciting New CERV2 Features and Options!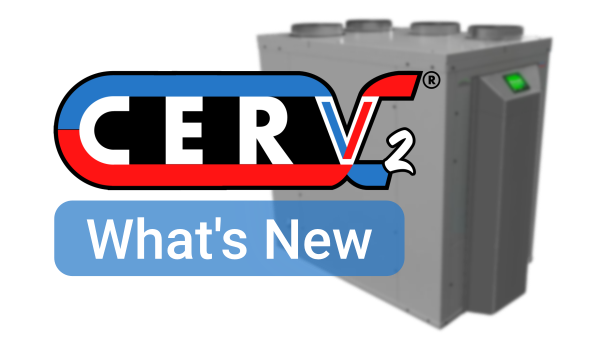 Build Equinox has been hard at work developing new features and functionality for the CERV2!  As always, we'd like to thank the CERV community for their invaluable feedback - the CERV is constantly evolving and improving, and your comments and suggestions help us on our mission to keep your homes healthy!
Note to Current CERV2 Owners: Check Your CERV2's Software Version
To use these new features, and add-ons, your CERV2 needs to be updated to the newest software version.  The following guide will help you determine if you need to update your CERV2.  1st Gen CERV not supported.
Guide: Check Your CERV's Software Version
---
New Control Screens
Pollutant Setpoints & Scheduled Ventilation
Both CO2 and VOC setpoints used to be tied to the same number.  Now, we have separated the CO2 and VOC setpoints into two independent setpoints.  This allows the user to, for instance, have a higher VOC setpoint than CO2 setpoint (i.e. CO2 setpoint = 800ppm, VOC setpoint = 1000ppm).  We've found over the years that some homes naturally have higher VOCs than others.  Remember, VOCs aren't always bad, and not all VOCs are equal!  Here's an article we wrote detailing how the CERV's VOC sensor measures various substances: CERV CO2/VOC Library
Scheduled Ventilation in the past was defined as a percentage of time per hour that the CERV would ventilate (even if indoor air quality was fine).  The new Scheduled Ventilation screen gives the user more precise control on the ventilation schedule (if any).  The user can now select a Vent Time and Interval.  For example, a Vent time of 30 minutes with an Interval of 2 hours would result in the CERV ventilating 25% of the time, for a total of 6 hours per day.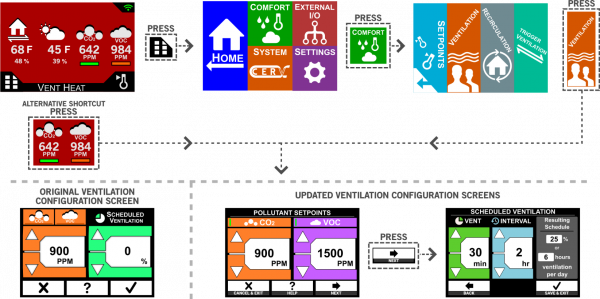 When scheduled ventilation is occurring, the above icon will be visible on the CERV's Home screen.
The Free Cooling Economizer is a feature that allows the CERV to take advantage of cooler night time temperatures in the summer and swing seasons.  The Free Cooling Economizer is configured with an offset from the CERV's standard cooling setpoint.
Example:
In the summer, you would like your home to stay at 76 during the day.  The CERV's cooling setpoint would be therefore set to 76 degrees.  When it's warm outside, therefore the CERV will cool the house when the temperature rises above 76 degrees, and stop cooling below 76.
Now let's say the night time temperature drops down to 60 degrees.  You'd like to use that cooler outside temperature to cool the house down to pre-cool the house for the next hot day!  In this scenario, we'll set the free cooling economizer offset to -5 degrees, meaning that between the temperatures of 71-76 degrees the CERV will simply ventilate with fresh, cool air (if it's nicer outside than inside).
Special Conditions:
What if the outside temperature is lower but the outside humidity is higher?  The CERV is smart enough to know how to handle that!  The CERV's algorithms take into account the inside and outside temperature/RH to make sure that it doesn't increase your home's humidity when it's bringing in the cooler outside air!
The CERV also keeps track of whether the CERV was last in heating or cooling mode.  If the CERV has been heating, the free cooling economizer will not take effect.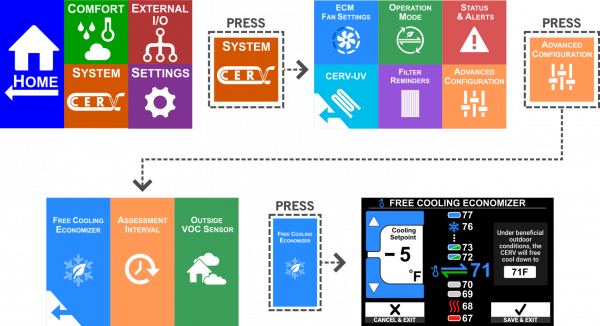 When the Free Cooling Economizer is operating, the above icon will be visible on the CERV's Home screen.
---
New Options and Add-ons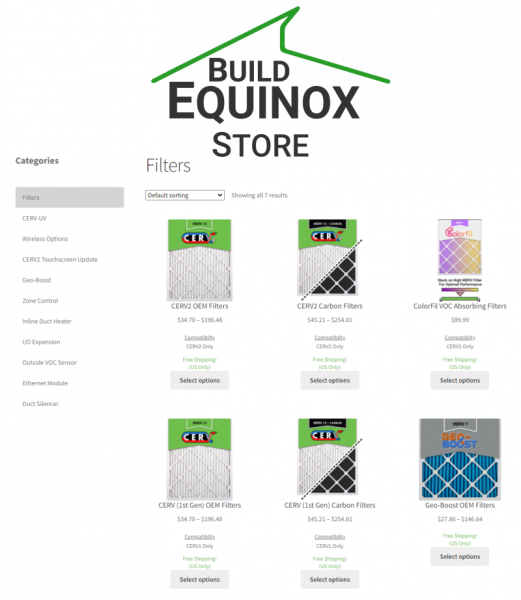 In conjunction with our exciting new options, Build Equinox is also releasing its brand new store!  You can purchase new filters for your CERV (1st gen and CERV2), purchase wireless switches, CERV-UV, and much much more!  Check it out!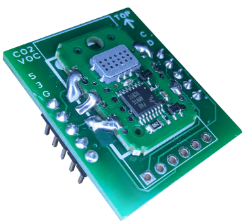 The outside VOC sensor option allows the CERV2 to measure VOC levels in the fresh air entering the CERV2 from outside. An Outside VOC Prevention function can be enabled by the user to allow the CERV2 to disable ventilation during times when the outside VOC level is higher than inside. This is especially useful in locations where wildfires or other outside pollutants are a concern.
Learn more about the Outside VOC sensor
Wireless Temperature, Relative Humidity, and CO2 sensors
Expand the CERV's control and monitoring capabilities throughout your home with remote wireless sensors.  Sensors come in two configurations – Temperature & Relative Humidity, and Temperature, Relative Humidity, & CO2.  The sensors can be placed on a desk/countertop, or easily be mounted to the wall with double-sided tape or screws.
Bathroom Humidity Control
Remote sensors can be a great option for bathrooms with the "Bathroom Humidity Control" feature.  When a spike in humidity is seen because of a shower, the CERV can automatically ventilate (similar to the functionality of the wireless switch option).  Configure ventilation length, airflow, and link to zone dampers for additional spot ventilation capabilities.
Indoor Air Quality Control
Remote sensors containing CO2 capabilities can be used to trigger the CERV to ventilate when elevated CO2 levels are detected.  Sensors may have unique setpoints for ventilation, or simply be linked to the CERV's CO2 setpoint.  Configure ventilation airflow and link to zone dampers for additional spot ventilation capabilities.
Learn more about the Wireless Temperature, Relative Humidity, and CO2 sensors
CERV-IR-T Thermostat Controller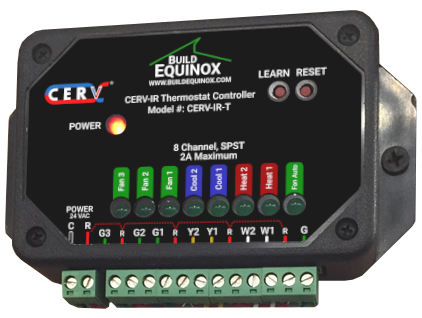 CERV-IR-T Thermostat Controller seamlessly integrates comfort conditioning control with indoor air quality control for the world's most advanced, effective and efficient IEQ (Indoor Environmental Quality) management system for homes. This results in:
• Exceptional air quality
• Efficient comfort conditioning
• Whole house air filtration
• Integrated online control, diagnostics, and OTA (Over-the-Air) upgrading of both CERV2 and minisplit heat pump operation
• Convenient dashboard administration for multi-family residences
The CERV-IR-T may be used to control any system with a standard thermostat interface.  Typical applications include:
• Ducted Heat Pump & CERV Integration (i.e. Magic Box Mechanicals)
• Ductless Heat Pumps
• Standard Furnace/AC Split System
• Geothermal Heat Pump
• Radiant Heating/Cooling
Learn more about the CERV-IR-T Thermostat Controller
Article: Magic Box Mechanicals
Article: CERV-IR-T Installed in UofI ADAPTHAUS
Article: Taylor CERV2+Ducted Mini Install (2.5 Year Follow-up)
CERV-IR-4 Wireless Four Channel Relay
CERV-IR-4 Wireless Four Channel Relay provides a convenient wireless option to expand the CERV's output capabilities.  The CERV-IR-4 comes with 4 SPDT (Single Pole Double Throw – terminals: Normally Closed, Common, Normally Open) relay outputs capable of switching up to 250VAC at 2A.  The CERV-IR-4 is compatible with any of the CERV's standard output Auxiliary Output functions such as:
• Heat
• Cool
• Vent
• Humidify
• Dehumidify
• Fan Interlock
• Vent Interlock
• Zone Damper
Learn more about the CERV-IR-4 Wireless Four Channel Relay
Ethernet Module (WiFi Alternative)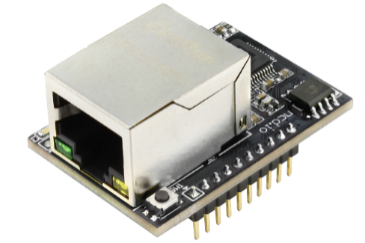 The CERV2 Ethernet Module provides a simple way to connect the CERV2 to the internet via a wired Ethernet connection instead of the standard WiFi connection.  Installation and setup of the module is simple and quick, with minimal tools needed.  The ethernet module is compatible with any standard CAT5 or CAT6 ethernet cable.