New Pure Carbon Filters with 3x Carbon!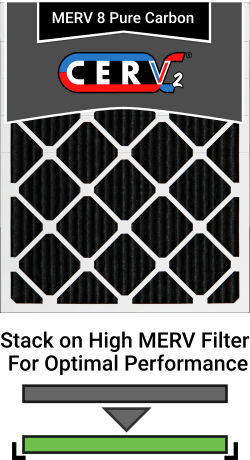 Build Equinox has added another filter option in the battle for maintaining excellent indoor air quality. The current filter lineup includes MERV 13, MERV 13 + Carbon, and MERV 7 Colorfil® options, and now the brand new MERV 8 Pure Carbon. 
MERV 8 Pure Carbon filters are geared towards odor and VOC removal and contain 3 times the carbon as our standard carbon filters.  These help control and neutralize strong odors from pets, garbage, bathrooms, and smoke while also removing Volatile Organic Compounds (VOCs). A lower MERV 8 is needed to allow 3 times the carbon to be infused with the filter media, but the beauty of the CERV2 filter compartment design is that a pure carbon filter can be stacked on top of our standard MERV 13 or MERV 13 carbon filter to achieve the best in both filtration as well as odor and VOC control. This is something we have already recommended with our Colorfil® filters.
Features:
• Attracts and captures most odors, VOCs and airborne particles from your indoor air.

• Three times the carbon media for better odor absorption.

• Ideal for residential customers in apartments, or for industrial customers who may need a pre-filter to help with strong smells.

• Filters should be changed approximately every 90 days.

• Made in the USA.

• Filter should be stacked on top of the CERV's existing MERV 13 filter for optimal performance.