CERV2 at Greenbuild 2018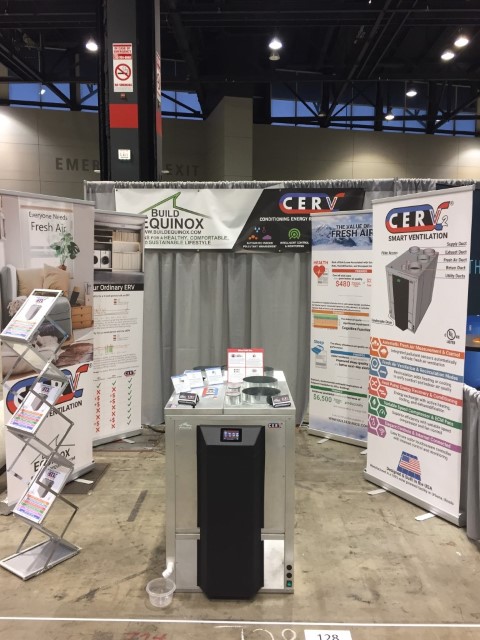 CERV2 at Greenbuild 2018 held in Chicago's McCormick Place November 14 and 15.
Build Equinox attended Greenbuild 2018 at Chicago's McCormick Place. Thank you to all who visited us to "kick the tires" on our second generation CERV2 smart ventilation unit. We enjoyed the conference and appreciate the efforts of Greenbuild and the city of Chicago for hosting this event.
We reported on air quality at the NAPHC and NAPHN conferences last year, and thought we would again describe air quality in the McCormick Place west exhibition hall. The McCormick west building is LEED certified, which is a great accomplishment for such a large building. Unfortunately, prescribed certification metrics and actual performance are often different.
Our CERV2 unit operated continuously over the 2 day conference, revealing some interesting aspects of the exhibition hall's air quality. The McCormick Place west building maintained good carbon dioxide levels throughout day and night. VOC (Volatile Organic Compound) concentrations reached excessive levels during nighttime periods when exhaust gases from vehicles (forklifts) were active in the exhibition space. The high VOC levels carried into the daytime when conference exhibitors and attendees were present.
Significant VOC peaks are seen in the accompanying figure during the evening and early morning hours. Last year's conference reports also found carbon dioxide to be reasonably well controlled, but significant excursions of VOC levels during the conference. Unlike Greenbuild 2018, both NAPHC and NAPHN conferences experienced high VOC levels during conference breaks when attendees were visiting the exhibition. Last year's conferences were in conference hotels with thick, plush carpeting. We speculate that thick pile carpet acts as a VOC sponge that spews a soup of VOCs into the air when trampled by attendees. At Greenbuild, our booth in McCormick Place had a concrete floor rather than wall-to-wall carpeting with no elevation of VOCs due to attendees.
Prescribed certification processes are great for guiding the design-build process, however, it is important that a building actually operates in a healthy manner. With today's technology as implemented in the CERV2, continuous monitoring of a home's IAQ ensures that it is always operating in a healthy manner. As expressed by Florence Nightingale nearly 160 years ago, without fresh air spread throughout a building, all other aspects are for naught.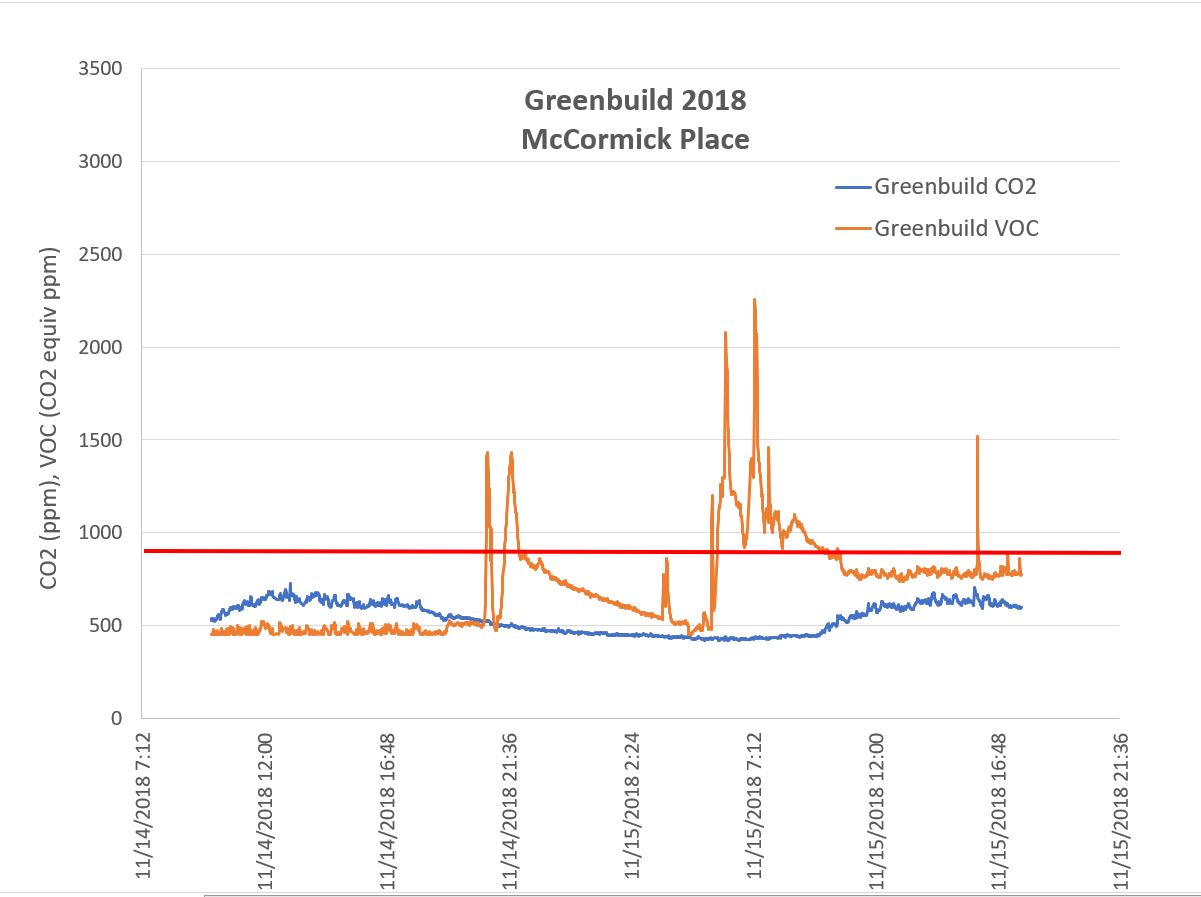 McCormick Place west exhibit hall air quality indicates good ventilation in terms of carbon dioxide. VOC (Volatile Organic Compound) levels spiked due vehicle exhaust gases. Time to switch to electric forklifts and vehicles for the health of McC's employees and visitors!