CERV2 Measures IAQ at NAPHC & NAPHN
CERV2 Debuts at NAPHC and NAPHN!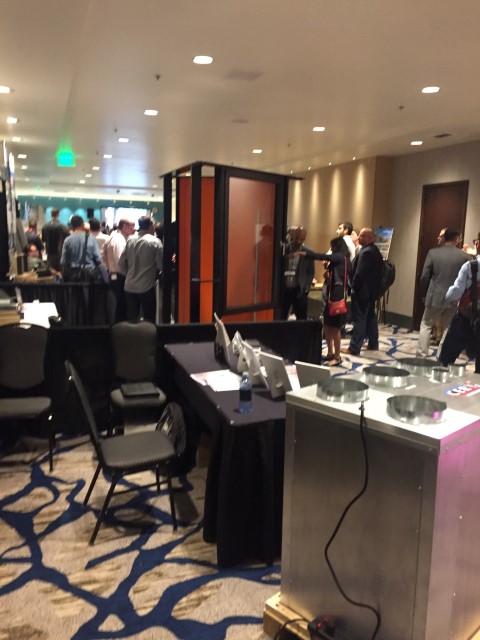 CERV2 at the NAPHC in Seattle (Sept 29-30, 2017).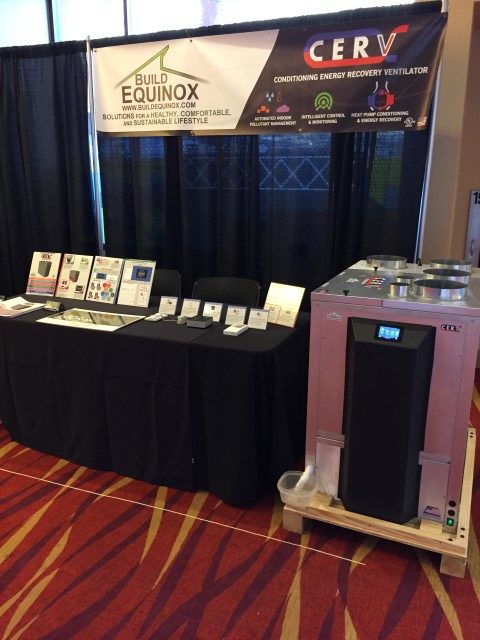 CERV2 at the NAPHN conference in Oakland (October 6 & 7, 2017).
We enjoyed introducing our new CERV2 to many attendees at the recent North American Passive House Conference in Seattle, Washington, and at the North American Passive House Network conference in Oakland, California. And we appreciate the many compliments received on its sleek design (all-aluminum, no paint construction for long term durability and ease of future recycling). We especially enjoyed the "Wows!" expressed by attendees as they learned about the CERV2's many revolutionary features.
What are those features? Check out our upcoming CERV2 webinar. In the meantime, our CERV2 brochure provides an introduction.
It is hard to believe that it has been 10 years since we first began development of the CERV, the first smart, fresh air ventilation system for homes. Ben and Ty introduced the CERV concept at the 2008 Passive House conference in Duluth Minnesota. In 2010, the first CERV was installed in our ZERO Plus Equinox House (Ty's home) in Urbana, Illinois. And that CERV continues to automatically ensure that fresh filtered air is delivered to Equinox House. In 2013, the CERV went online with our industry-first OTA (Over-the-Air) upgrading capability, which means that the CERV never goes out of date. View live CERV operation conditions (including IAQ and comfort data since 2013) at Equinox House from the "Take Control" menu item at our Build Equinox website, and see why members of the CERV Community around the country are breathing easily.
CERV2 Documents Need for Improved Air Quality at Conference Venues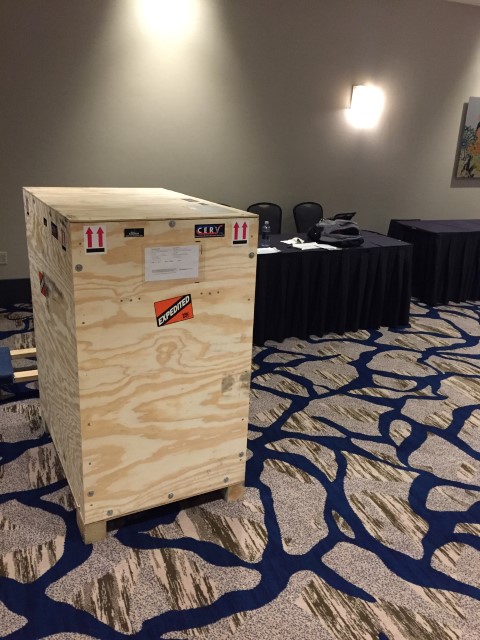 CERV2 sitting on carpeting in the NAPHC exhibit hall in Seattle.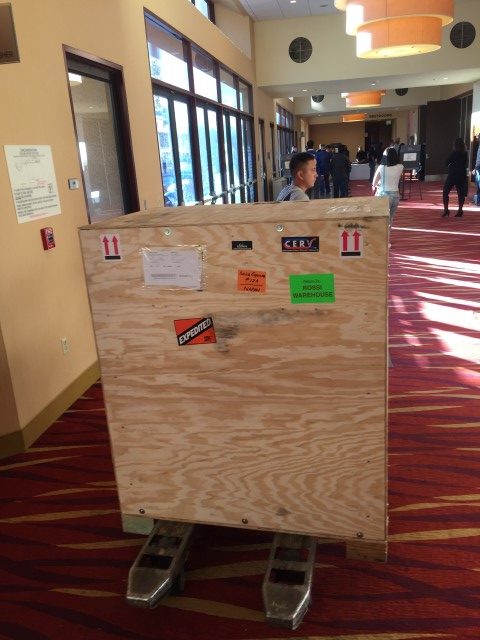 CERV2 delivered to a carpet coated convention center for the NAPHN.
The CERV2 operated continuously during the recent NAPHC and NAPHN conferences in Seattle and Oakland, allowing attendees to see it in action. Real time carbon dioxide and total VOC (Volatile Organic Compound) data were displayed online for viewing. Unfortunately, air quality data from the conferences was not very good.
Humans are unable to smell bad air quality. We can smell really bad air, but we need help from today's technologies to help us monitor and maintain excellent indoor air quality.
Carbon dioxide and VOC (Volatile Organic Compound) data from each conference was collected over each two-day conference period (found at the bottom of this article). Both conference venues were in very nice hotels, however both convention sites displayed extended periods of elevated VOCs. Carbon dioxide levels were mostly maintained below 1000 ppm (parts per million) concentration, indicating that adequate amounts of fresh air were being added to the buildings' ventilation systems. VOCs, however, would soar anytime conference attendees entered the exhibition areas for breaks and meals.
The CERV and CERV2 incorporate a total VOC sensor that correlates a human's VOC output to human carbon dioxide production. An interior environment with a ratio of VOC to CO2 that is less than 1.1 indicates that VOC levels are most likely due to human VOCs. VOC to carbon dioxide ratios that are significantly greater than 1 indicate that non-human sources of VOC emissions are significant.
Possibly, the plush, wall-to-wall carpeting in both conference venues is responsible for the elevated VOC levels. Despite many demonstrative studies (e.g., "What is IAQ," Indoor Air, 2006, pp328-334, P. Ole Fanger) quantifying our reduced productivity and increased sick days caused by unhealthy interior building material selections, we continue repeating the same design mistakes.
Wall-to-wall carpets become reservoirs of cleanser and "deodorizer" residue of unknown origin. VOCs emanating from the material itself coupled with those VOCs absorbed from other emission sources are also released. Molds and bacteria thrive on innumerable nutrient-laden food and drink spills. And, the stuff stuck on the bottom of countless shoes is ground into this carpet stew mixture. Yuck!
During breaks and receptions, as attendees visiting the product exhibition air, VOCs soared, most likely due to people walking on the carpet, squishing the entrapped gases and particulates into the air. We like to see VOCs and carbon dioxide upper threshold levels of 900ppm. As indoor pollutants increase above 1000ppm, significant degradation of human cognition and health takes a toll on us.
It's no wonder that anyone with allergenic and respiratory sensitivities enter unfamiliar buildings with a cortisol fueled fear. "Will that telltale rash, raspy throat, itchy eyes, or hair standing up on the back of their neck occur as I enter this building?" "Am I about to be attacked by this building's indoor environment?" are common thoughts. Even if you are fortunate enough to not have these immediate sensitivities and fears, indoor environmental pollutants impact our health with unnecessary, accumulated exposures that may one day take its toll.
Florence Nightingale recognized that our buildings are making us sick more than 150 years ago. As expressed by her, if building designers and owners were responsible for paying for the health of their buildings' occupants, we would have very different buildings. It's time to make a change. It's time we demand better buildings for ourselves and for future generations that place our health and well-being as the most important aspect of its design and operation.