Heat Pump (Hybrid) Clothes Dryers are Coming!
*Don't forget to sign up for our upcoming webinar introducing the new CERV2 on November 29.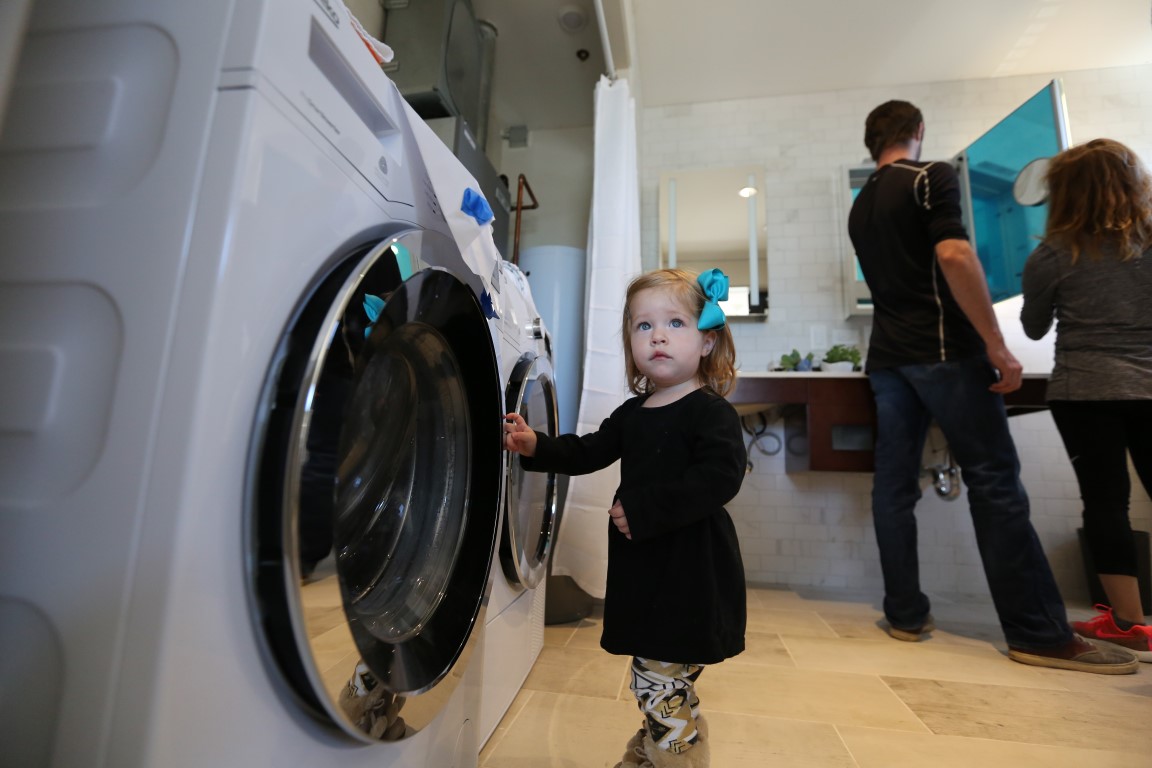 (photo credit; John De La Rosa/U.S. Department of Energy Solar Decathlon)
This future homeowner visiting the 2017 Solar Decathlon examines a heat pump clothes dryer. Homes designed and built today will be the homes that she and her children, and her grandchildren will live in tomorrow. We must ensure that these homes are healthy, comfortable and sustainable.
The Solar Decathlon is a harbinger of household technologies moving into the mainstream. In 2007, when Ben and Ty were members of the University of Illinois Solar Decathlon team, we were the only team with a heat pump water heater (our team built its own). Now, they are commonplace in today's high performance homes. Heat pump clothes dryers were unavailable at that time for Solar Decathlon teams.
Heat pump clothes dryers were first introduced to the European market around 2005. Our Equinox House (Ty's Zero Plus home in Urbana Illinois), constructed in 2010, was one of the very first homes in North America to feature one of these remarkable machines. This first generation heat pump clothes dryer was sent to us by Blomberg/Beko, with whom we have conducted research on a variety of high performance appliances for many years.
Heat pump clothes dryers were formally introduced to the North American market two years ago. Blomberg/Beko and Whirlpool became the first appliance manufacturers to market ventless, heat pump clothes dryers in North America. The Blomberg/Beko clothes dryer (either brand name, Blomberg or Beko may be on their units) is a smaller, European size clothes dryer (4.1 cubic feet) while the Whirlpool heat pump clothes dryer is a full-size unit (7.3 cubic feet) typical of other North American clothes dryers. Note that Whirlpool's Greenville Ohio plant, where the clothes dryer is manufactured, has announced that 70% of its factory's energy will be renewable with onsite, wind turbines!
A heat pump clothes dryer has a dehumidifier incorporated into the dryer. Several challenges had to be overcome in the development of the technology, including balancing air flows, moisture flows, energy flows, along with the practical problems of increased lint filtration to keep the dehumidifier's heat exchangers clean. In conventional dryers, an ineffective screen filter reduces lint, but over time, dryer vents become clogged with lint that reduces dryer air flow, making an already horribly inefficient machine more inefficient, while increasing the potential for dryer heating element burnout and dryer fires.
In effect, a heat pump clothes dryer dehumidifies your clothes. Liquid water in your clothing is temporarily vaporized, and then recondensed through the operation of the heat pump. Latent and sensible heat is recovered from the warm, moist air passing through your clothing, and recycled into dry, hot air for further drying.
Improved energy efficiency and practical reasons make heat pump clothes dryers desirable:
• Place your laundry room where you want….no vent to the outside required
• In combination with a CERV, use your laundry room as a "drying closet" as we do in Equinox House (contact us to learn more)
• Heat pump clothes dryers use 50% less energy than conventional clothes dryers
• Heat pump clothes dryers are true clothes dryers, unlike other ventless dryers such as "condensing" dryers that take forever to dry, do not use less energy (and some use a lot of water), while producing damp-feeling clothes
• No thermal envelope penetration is required for venting
• Ventless operation eliminates unhealthy leakage air flow into the house caused by vented clothes dryer exhaust
• Relative to electric dryers: Much lower electric power demand (the Blomberg/Beko model draws a maximum of 900 Watts compared to 4000-5000 Watts for a conventional vented dryer) in addition to lower energy usage
• Relative to natural gas: No explosions! No fires! No carbon monoxide generation! No nitrogen oxide pollutant generation! No sulfur pollutant generation! No carbon dioxide generation! No negative venting asphyxiation danger!
Our personal experience of 7 years usage with two heat pump dryer models, 5 years with the Blomberg/Beko first generation model, and two years with the Whirlpool model is very positive. Drying cycles are very gentle with lower temperature, dry air passing through your clothing. Both brands of heat pump clothes dryers have cycle times that are comparable to washing machine cycle times.
Clothes dryers rank next after water heating for the most energy usage in typical households. Every kilowatt-hour of clothes drying electric energy reduction provides enough energy for driving today's electric vehicles 3 to 4 miles! You don't need to live in a high performance home to take advantage of this energy savings opportunity. Buy one today, seal and insulate your dryer vent hole, and feel great knowing that you have created more manufacturing jobs than you have eliminated in fossil fuel industry (for every dollar shifted from energy usage to manufacturing, 10 manufacturing jobs are created for each fossil fuel job lost).
CERV2 is Ready for Heat Pump Clothes Dryers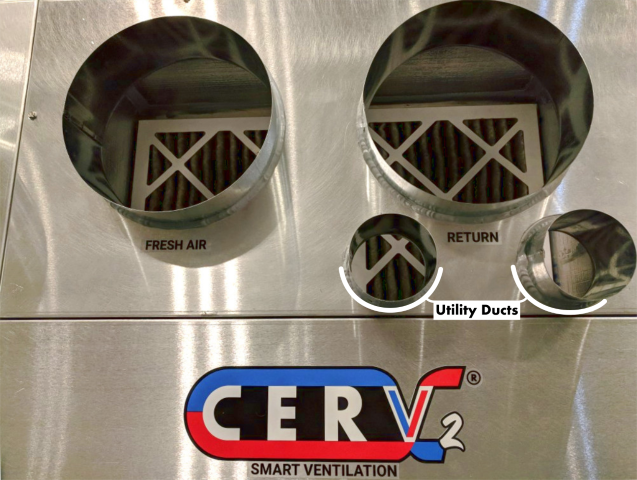 The CERV2 comes standard with two utility ducts to intelligently handle the space conditioning challenges of heat pump clothes dryers and water heaters
Build Equinox developed its CERV technology with an eye toward the future. And, the future is now. Build Equinox has worked on the nexus of home energy systems throughout its 20 year history.
Rooms with heat pump water heaters and heat pump clothes dryers require special design considerations. Heat pump water heaters can overcool a room, reducing the water heater's efficiency while potentially causing moisture condensation problems in the room. In contrast, heat pump clothes dryers can overheat the laundry room because the energy used to power the heat pump ends up as heat released in the laundry room. Increased laundry room temperature decreases the efficiency of the heat pump clothes dryer while making the room less comfortable.
Our new CERV2 model technology incorporates two special inlet duct connections for managing heat pump water heater and laundry room venting. With a CERV managing laundry room ventilation air, delicate clothing can be "hang dried" without creating local moisture problems. Seeing is believing, and you are more than welcome to visit our 7 year old Equinox House, located in a high summer humidity climate, to see its mold free bathrooms and laundry room. And while you're in town, stop by Build Equinox, located a half mile away to see our solar powered production facility.
Would you like to learn more about the synergism of high performance appliances on household energy usage? Download Ben and Ty's 2011 ASHRAE Journal article on the importance of today's high performance heat pump technologies. Learn how these exciting technologies create household electrical energy savings sufficient for driving an electric vehicle 9000 to 12,000miles per year!