CERV OEM Filter Store is OPEN!!!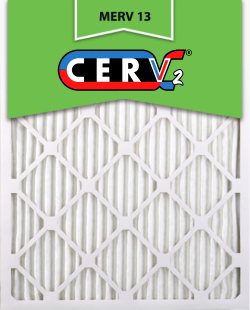 Filtration is an essential part of the CERV's functionality in keeping a home's indoor air quality as clean as possible. In addition to the CERV's filtering of the fresh air when in ventilation mode, the CERV's unique recirculation mode lets it remove indoor particulates that no other ERV can. A previous newsletter article titled The Perfect Dust Storm detailed the CERV's superior ability to remove particulates from the home.
Both the CERV and CERV2 come with MERV 13 filters standard, providing filtering of lint, household dust, pollen, smoke particles, dust mites, pet dander, virus carriers, mold spores, smog and other contaminants. These filters are standard size to make filter replacements easy and inexpensive. Our mission is promoting the healthiest home possible, so we want to encourage our customers to keep up with their filter changes, so it's important to remove any barriers that may prevent someone from changing filters.
Potential customers don't often consider ongoing maintenance costs when comparing systems. As an example, a competitor used in many similar high performance home projects, Zehnder, uses a proprietary filter costing $25 for a MERV 13 equivalent. Each filter change to replace both return and fresh air will cost $50. Assuming a customer purchases the 8 filters at once to do four filter changes in a year, this would cost $215 including shipping. Compare this to the CERV's annual filter cost of $63 for the same MERV 13 filters changed 4 times in a year. This is a difference of $152 per year or over an expected system lifetime of 15 years, that is a difference of $2,280!
Coinciding with Cyber-Monday, our online store is open, offering OEM CERV filters. Our customers can depend on easy purchasing, excellent filter quality, low prices, and free shipping. CERV OEM filters are:
Click below to visit our online store. For those customers with CERV-ICE, you can also access the store through your account dashboard for easy ordering. Breathe easier with CERV OEM filters!