nts – Free CEU Webinar: Duct Design & Performance (PDF Download)
Proper design of residential ventilation systems is essential for economic optimization of duct installation cost and ventilation fan power cost. This webinar discusses the characteristics of economically optimized residential ventilation systems. Just as important as the design is quality installation of ventilation ductwork. Two performance metrics and simple field tests are presented for determining the flow performance and leakage of a duct network. Flow performance and leakage tests should be performed before wallboard and ceiling panels are installed so that corrective action can be taken on substandard duct installation.
Webinar participants will: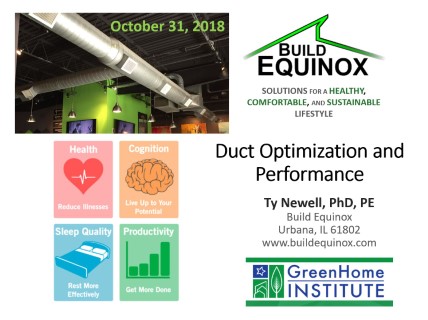 Download the Slides
This webinar is presented by Build Equinox, a leader in fresh air ventilation technology. Build Equinox manufactures the CERV smart ventilation system that automatically monitors and controls indoor pollutants in homes. The CERV is manufactured in Build Equinox's solar powered facility located in Urbana, Illinois.