Economical Net Zero Design Webinar (Video+PDF)
Forget "Solar Ready"
We Want SOLAR NOW!
7 Steps for Designing an Economical Net Zero Home Webinar – May 25, 2017
Thanks to everyone who could make it to the webinar! For those of you who'd like to watch again (or if you didn't get a chance to see it), you can find a link to the slides, as well as the full video below!

Watch the Video

Watch the Video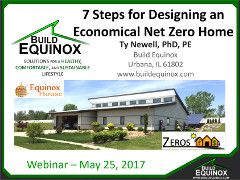 Download the Slides
How much more cost effective? For a 2000 square foot home in central Illinois, one of the most challenging combined heating and cooling climates in North America, an economically optimized, solar powered home will cost $150,000 to $200,000 less than today's conventional home over its lifetime! And, monthly payments are lower, too!! The figure below shows the progression of Life Cycle Cost we will cover in the 7 steps.
Learn how to design an economically optimized, solar powered home using our powerful, free-to-use ZEROs (Zero Energy Residence Optimization software). Also, download a pdf description of the 7 Steps and download a CSV file with the 7 Steps Project files that can be imported into your ZEROs account. Your ZEROs account is not shared nor sold to anyone, and we will not bother you….it is there to help build wonderful homes from Burlington Vermont to Wuhan China!
This webinar is presented by Build Equinox, a leader in fresh air ventilation technology. Build Equinox manufactures the CERV smart ventilation system that automatically monitors and controls indoor pollutants in homes. The CERV is manufactured in Build Equinox's solar powered facility located in Urbana, Illinois.