Build Equinox Zero Plus Facility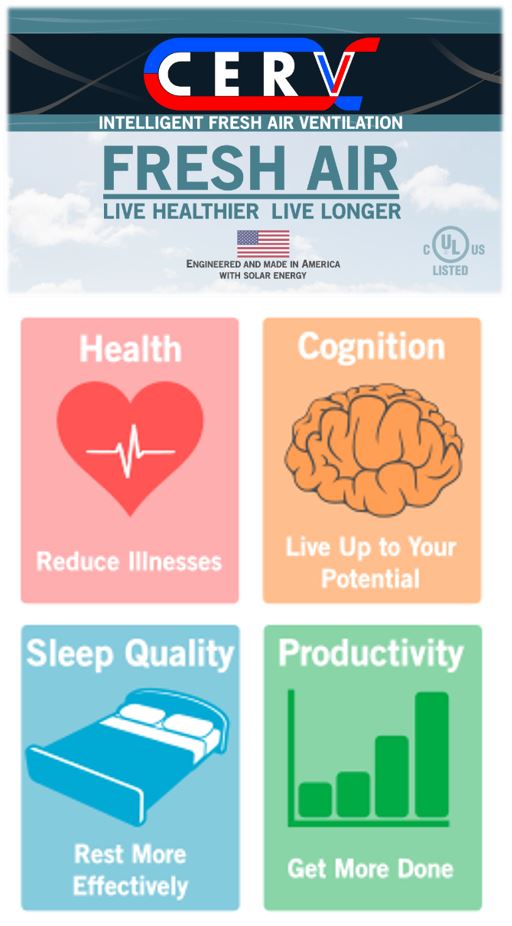 We hope our experiences in converting and renovating our business facility to Zero Plus solar energy operation will provide inspiration and confidence for others to do the same.
Build Equinox is a company located on the East side of Urbana, Illinois in a 4,500 square foot metal building ("Morton" building) constructed in 1988. The original owner, artist William Carlson, contracted with Morton Buildings to construct the facility with Morton's "energy" package, which included fiberglass batt wall insulation and blown chopped fiberglass ceiling insulation. Carlson also chose to install a 5 ton geothermal heat pump system, one of the earliest in Central Illinois.
Build Equinox (a division of Newell Instruments, Inc, an engineering R&D corporation) acquired the building from the original owner in 2004. A variety of energy efficiency upgrades, coupled with installation of two solar photovoltaic systems with combined capacity of 8.2kW, have converted the building into a Zero Plus building. The building is 100% electric with no fossil fuel combustion systems. As of 2015, Build Equinox operates as a Zero Plus, solar powered facility. During the period from March 2016 through February 2017, Build Equinox's 3.2kW solar tracker and 5kW stationary PV systems donated its excess 500kWh of electric energy to the local utility. Figures 1 and 2 show details of Build Equinox electric energy usage and solar energy generation over the past year. Additional figures show our activities over the past 10 years to convert Build Equinox to a Zero Plus building.
Passing through Central Illinois? Come and visit Build Equinox!
The following lists our renovation projects and solar system upgrades at Build Equinox:
1) Installation of a 3.2kW, two-axis tracking solar PV array, named "Sunflower", in 2008
2) Replaced original 5 ton geothermal heating/cooling unit with higher efficiency geothermal unit after original unit's compressor failed (20 year operation)
3) Replacement of all windows and sliding glass door with Energy Star windows (Pella Thermastar) in 2010
4) Installation of "double" entrance doors (three doorways converted to "Equinox House" doorways) to the building entrances
a) Double entrance doors consist of two insulated doors with one opening inside and one opening to the outside for significantly increased insulation and sealing
5) Hops (Centennial, Nugget and Cascade) planted along south wall of the building for summer shading in 2010
6) CERV smart ventilation system for automated air quality control installed in 2012 (CERVs formally enter market in summer, 2013 after achieving UL listing)
7) Additional 1 foot of cellulose insulation added in 2013 to original chopped fiber ceiling insulation for an estimated R50 ceiling thermal resistance.
8) Replacement of fluorescent light fixtures with LED lighting in 2014
a) 48, 60W fluorescent tubes were replaced with 96 10W LED bulbs resulting in a reduction from 2880W to 960W for building lighting. And, the LED lighting quality is vastly superior to fluorescent lighting.
b) Fluorescent tubes cost $1.2 per tube for disposal
c) Fluorescent ballasts (non-PCB) were recycled
9) Installation of a 5kW stationary solar PV array, nicknamed "Sundial", in 2015
10) 300ft geoloop installed in 2015 for CERV Geo-Boost (hybrid air source/ground source heat pump) system
What's next? Rainwater harvesting! Following in the steps of our Equinox House project (Equinox House is a Zero Plus solar powered residence in Urbana, Illinois constructed in 2010), we will add a cistern and collection piping to Build Equinox, reducing the power required for pumping water from deep wells and improving our water quality.
Table 1 – Utility bill summary for Build Equinox from February 2016 to 2017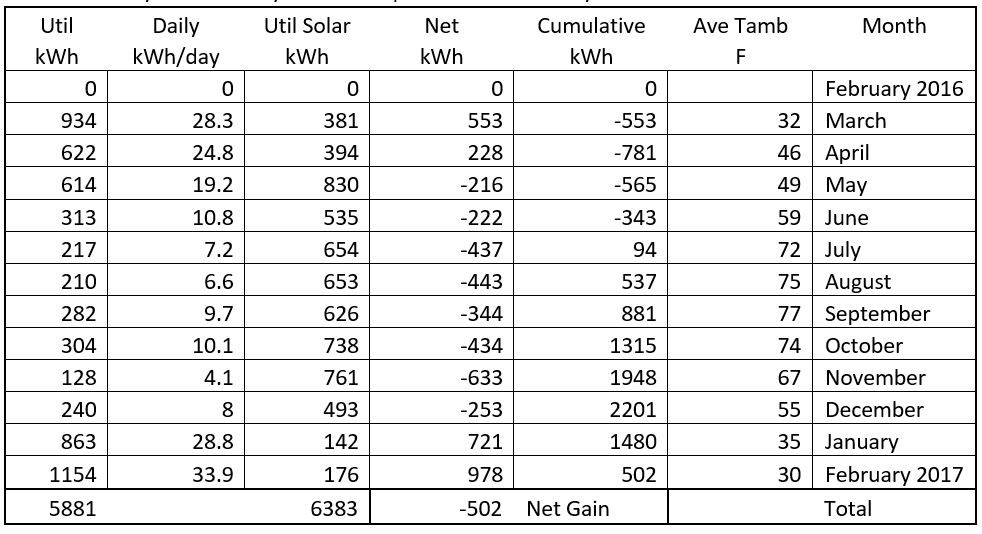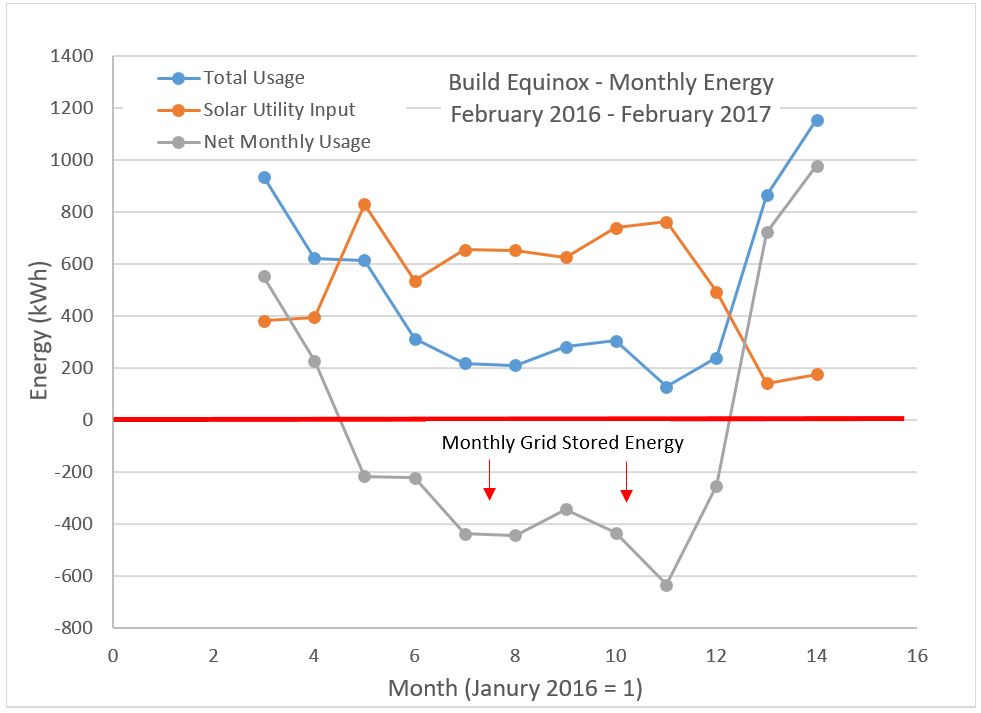 Figure 1 Monthly electrical energy trends at Build Equinox in Urbana Illinois from February 2016 through February 2017.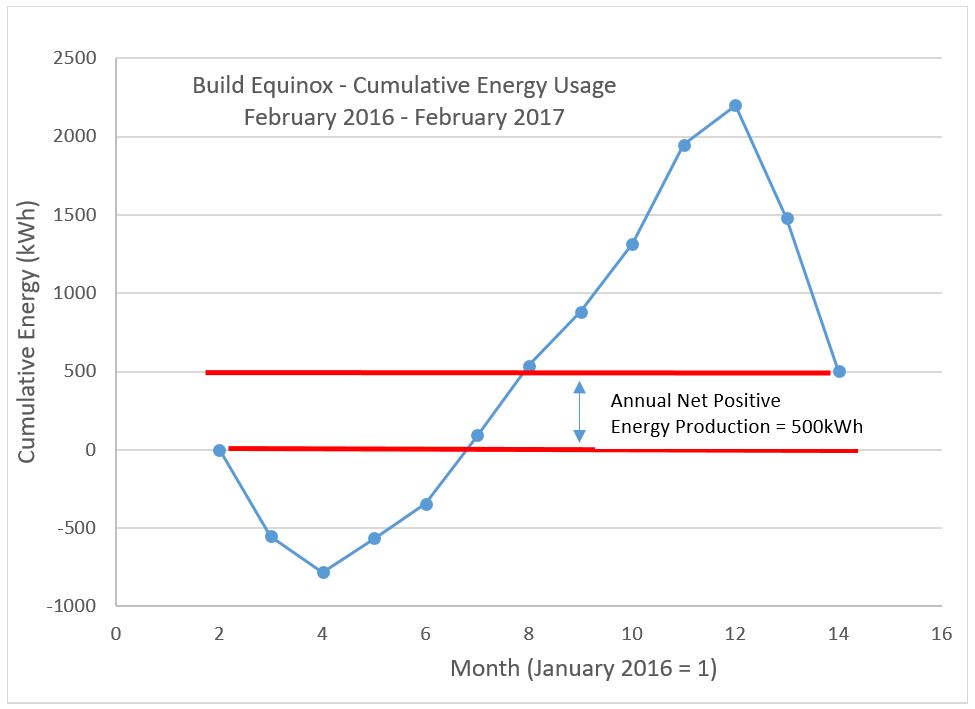 Figure 2 Cumulative electric energy usage at Build Equinox in Urbana Illinois from February 2016 through February 2017.
Original Build Equinox 4500 square ft (90' x 50') building in Urbana Illinois, constructed in 1988, is one of the earliest buildings in central Illinois to install a geothermal heat pump.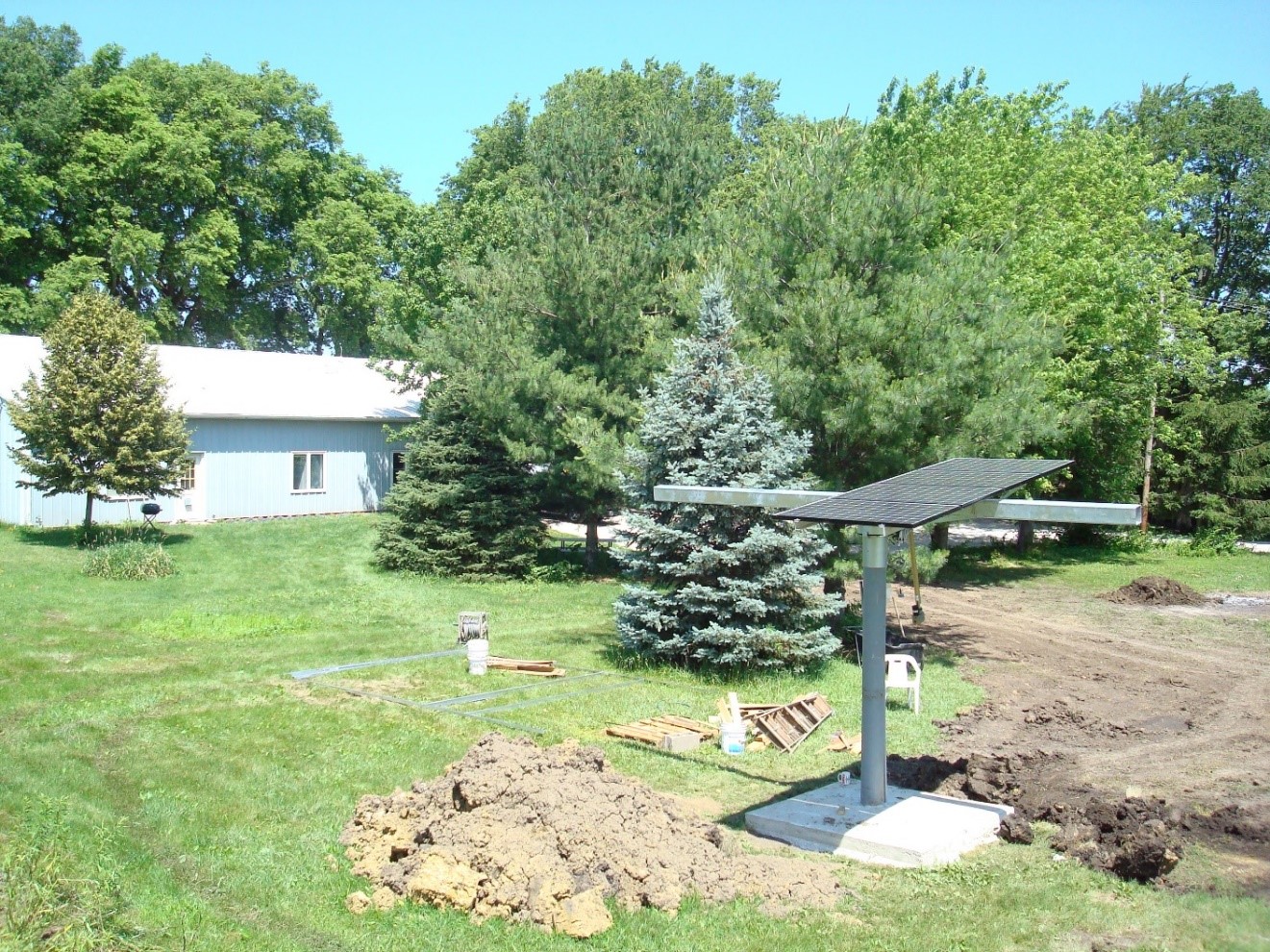 2008 installation of 3.2kW, 2-axis tracking solar PV array, nicknamed "Sunflower".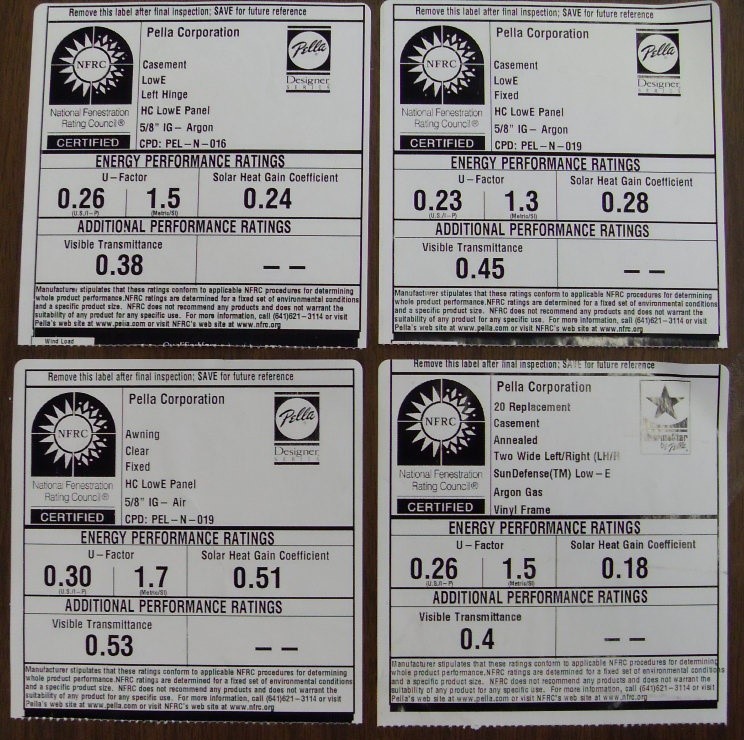 Energy Star replacement windows and sliding door added to Build Equinox in 2010.

Pella Energy Star windows installed in building. Completed 3.2 solar PV, aka "Sunflower" in foreground and Ben Newell (President, Build Equinox) harvesting hops in the background.

Hops (Centennial, Nugget and Cascade) planted in 2010 now cover the entire south building façade, providing summer sun shading (91.8F shaded and 119.2F exposed building surface temperatures). Hops die back to their roots in the winter, allowing solar radiation to help warm the south façade in winter.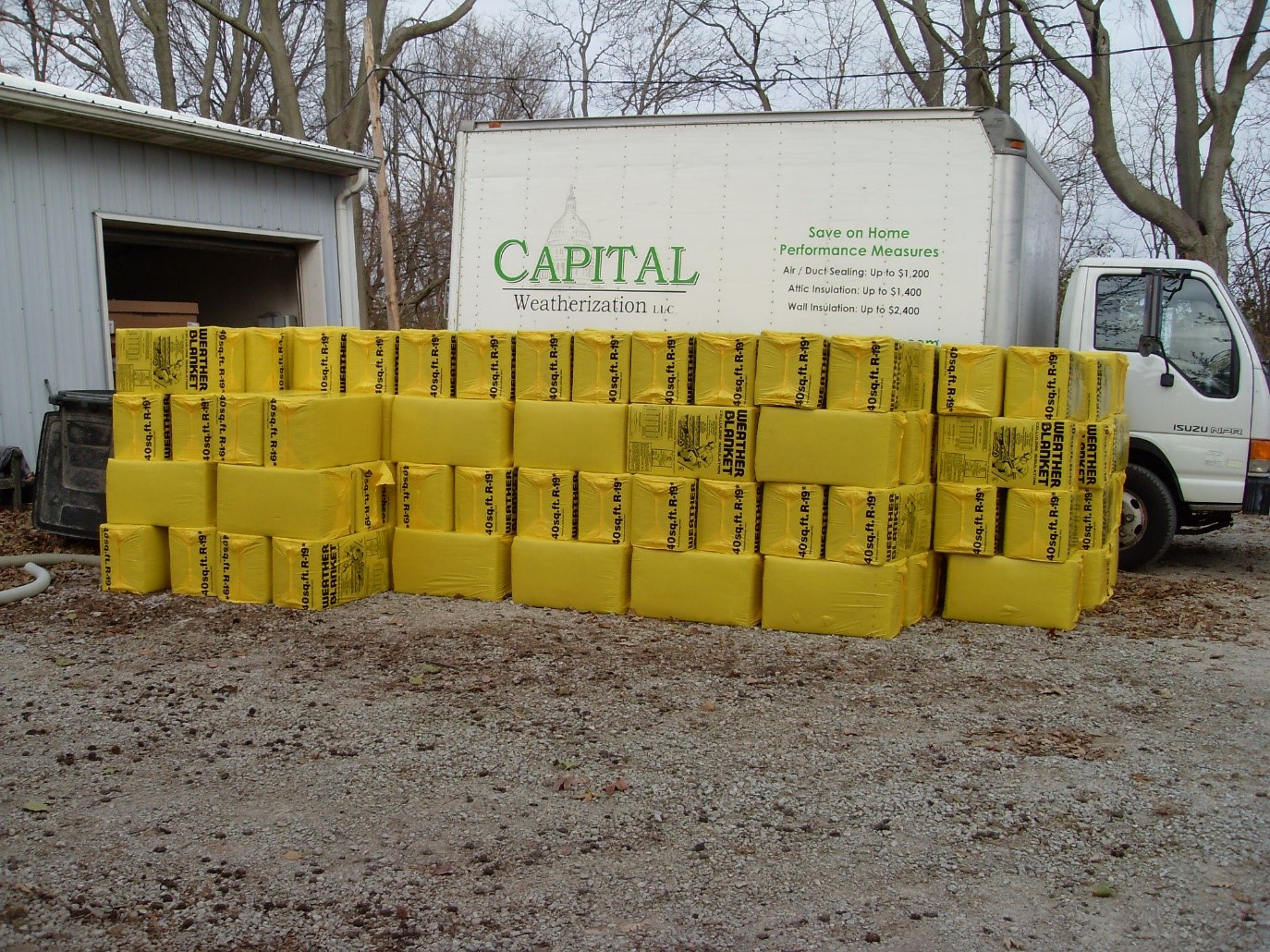 Installation of 4100 cubic feet of cellulose insulation in ceiling in 2013. Building infiltration measured 3.0 ACH at 50Pa before and 2.8 ACH at 50Pa after insulation added indicating a very-well sealed building.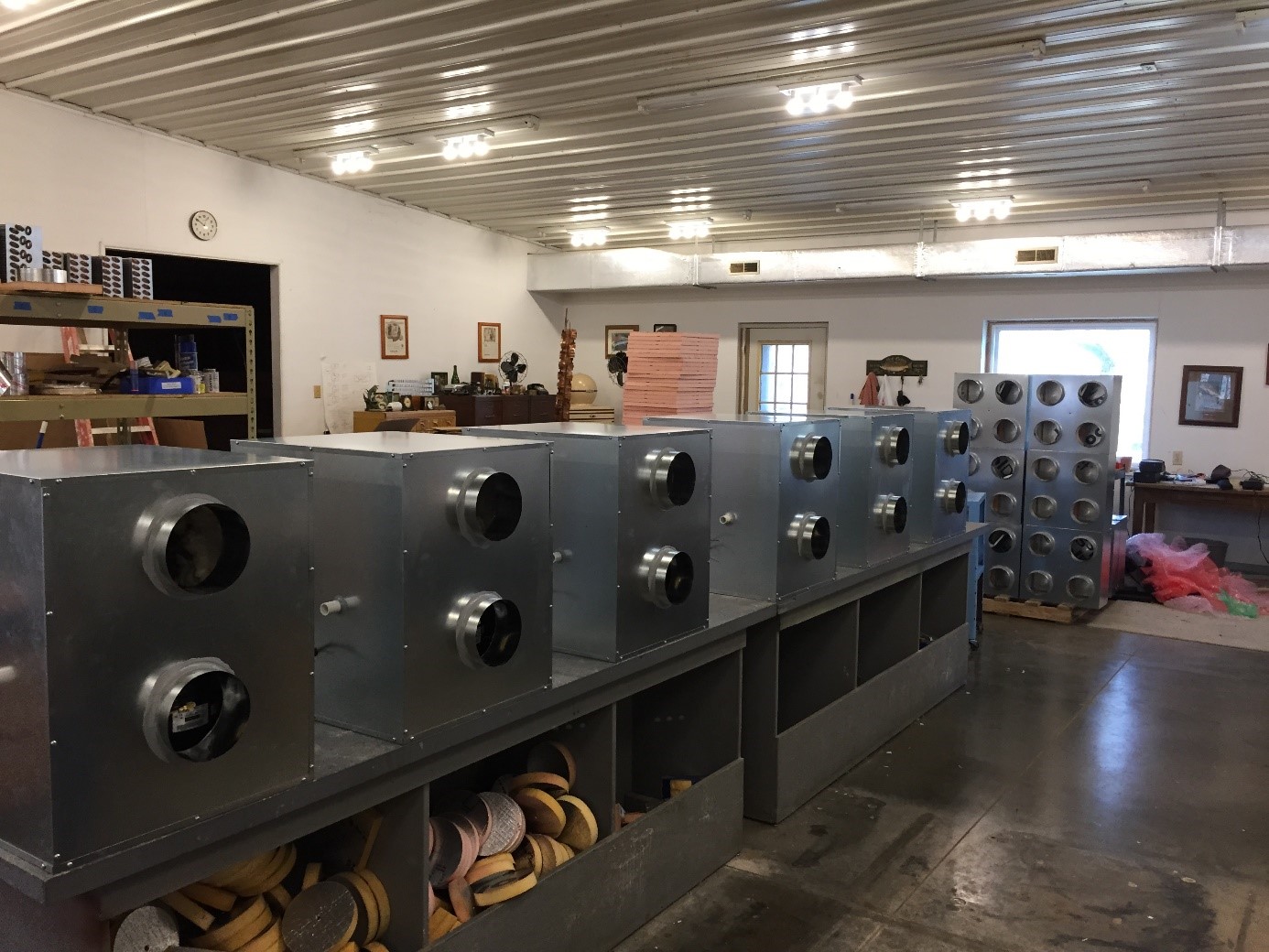 48 T12 (60W) fluorescent tubes and ballasts (non-PCB) were recycled. The fluorescent tube fixtures were re-purposed for mounting LED bulb fixtures. 96 bulbs (10W, 800 lumens/bulb) were installed, reducing lighting power from 2880W to 960W. Lighting quality significantly improved, too! CERV smart ventilators ready to ship to a variety of climatic regions.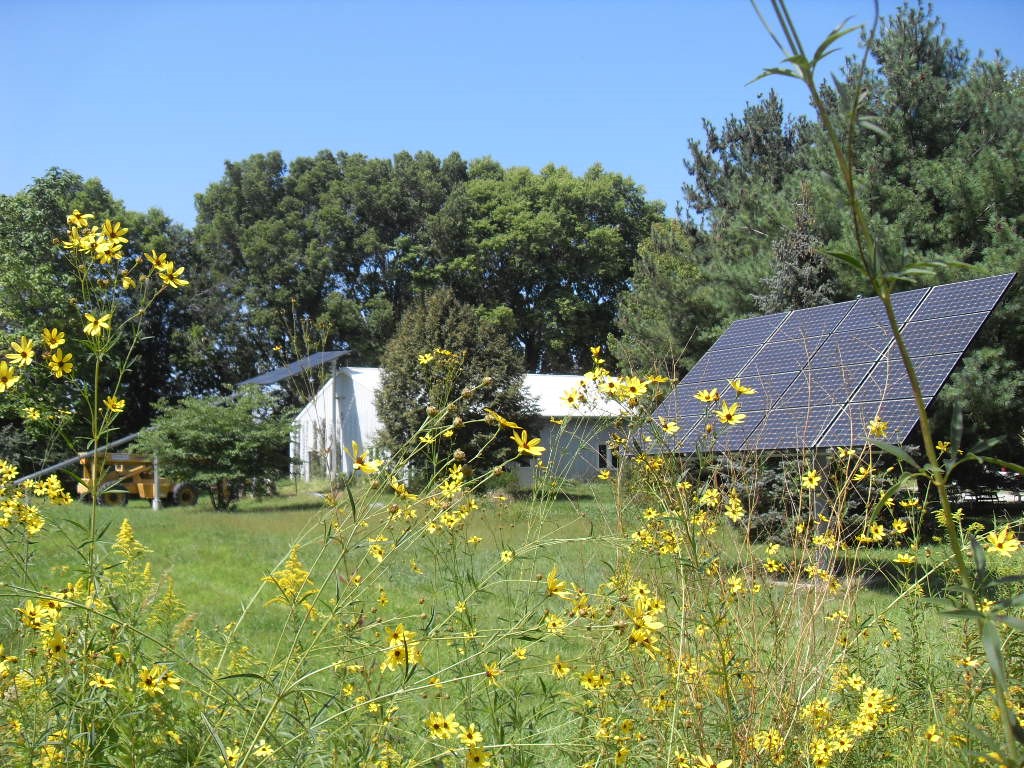 Installation of 5kW solar PV system, nicknamed "Sundial" in 2015. "Sunflower", our 3.2kW 2-axis solar tracker in foreground. Build Equinox is bordered on the south and east by a beautiful prairie.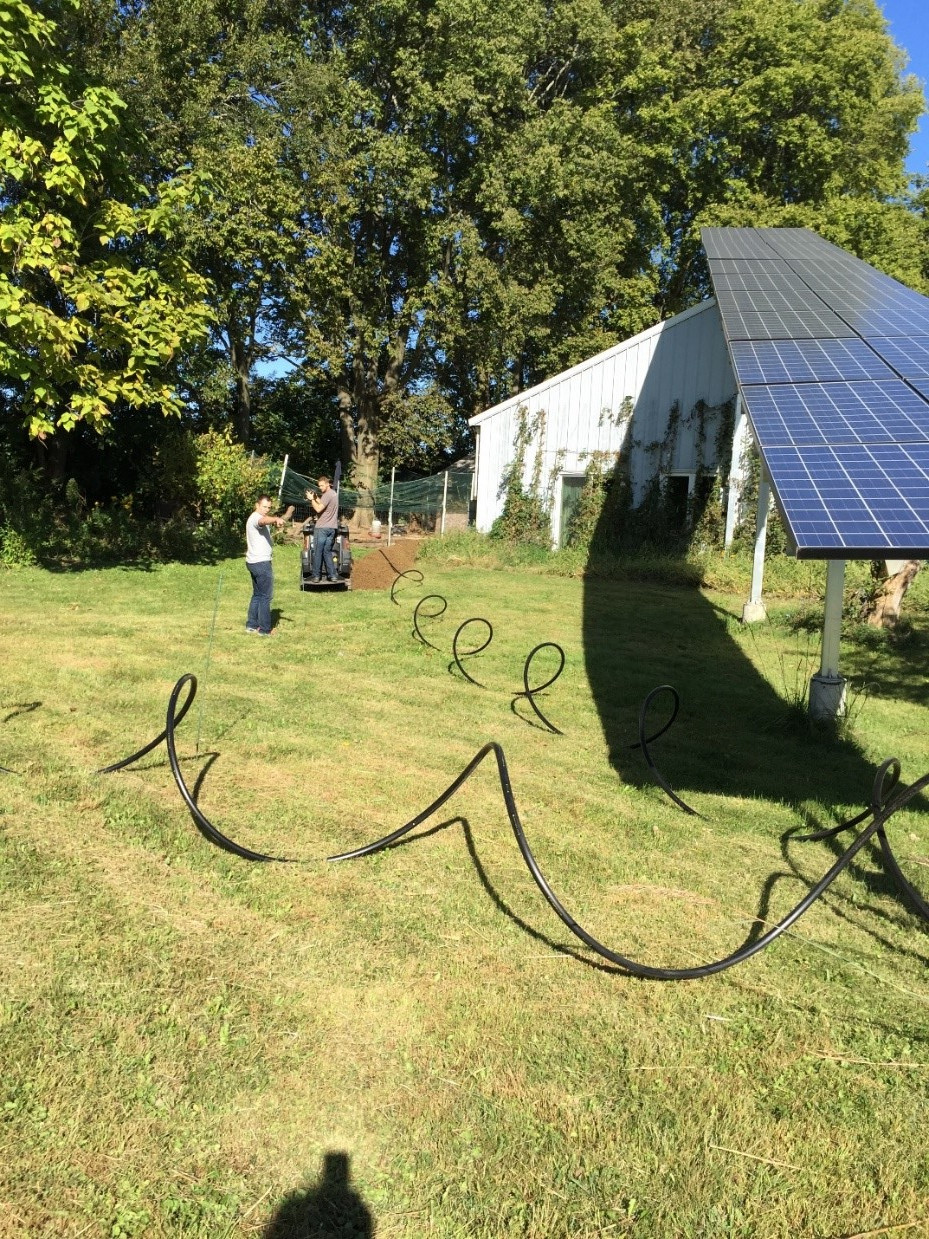 Alex and Ben digging a 300ft long trench for CERV smart ventilator geoloop ground heat exchanger in late fall, 2015. Note completed "Sundial" 5kW solar PV array in foreground.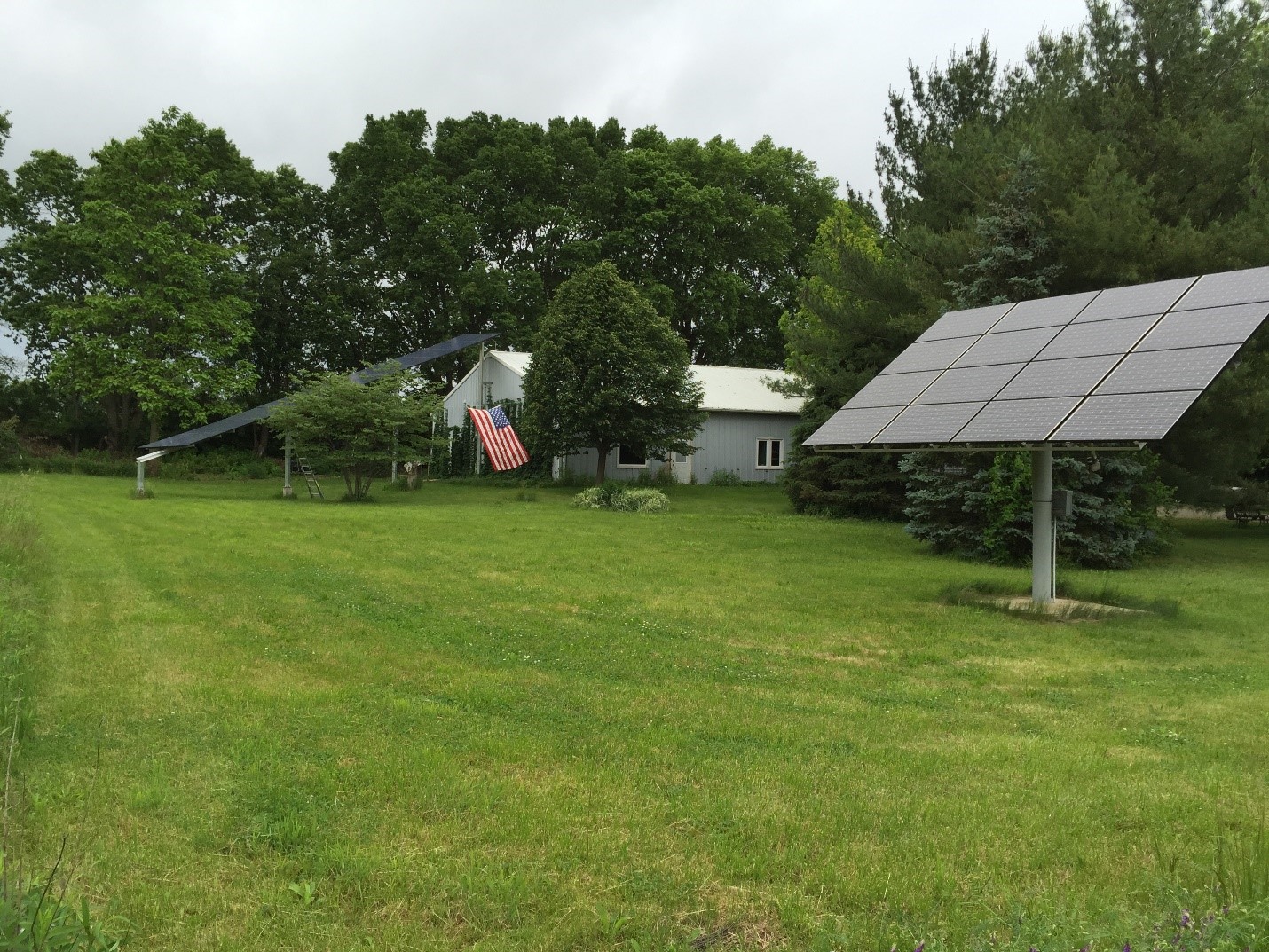 Build Equinox today. CERV smart ventilation systems are manufactured with solar energy, and leading the way to healthy and sustainable living.
Share
Archives