Net Zero Eco-House (Monticello, IL)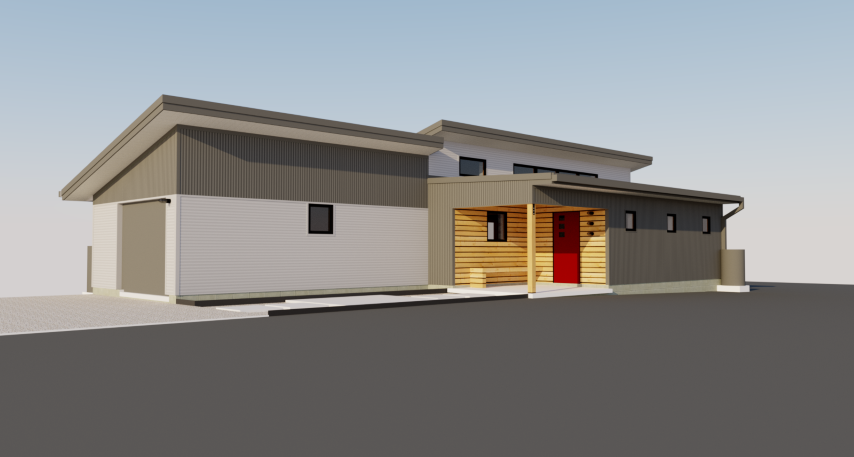 Editor's Note:
Architect Ryan Reber describes an elegant, high performance home under construction in central Illinois. Build Equinox is fortunate to be part of many wonderful home projects throughout North America. We will bring you more articles spotlighting these projects so that you can see what others are doing. Beautiful, healthy and sustainable homes are rapidly becoming the norm rather than the exception. Enjoy!
Net Zero Eco-House located outside Monticello, Illinois
by Ryan Reber
Design by:
Ryan Reber | Architect
ryan@ryanreberarchitect.com
www.ryanreberarchitect.com
Urbana, Illinois
Construction by:
Hans Schacht
MKT Custom Homes
mktcustomhomes@gmail.com
Mansfield, Illinois
Sited on an existing organic farm in a bucolic landscape overlooking a lake, this compact eco-house currently under construction contains kitchen, living, sleeping, and bath/mechanical spaces in just 880 square feet. The owner wanted an open plan 'tiny house' concept with the goal of being net-zero, and as such, special attention needed to be taken in building orientation, construction detailing, and mechanical design.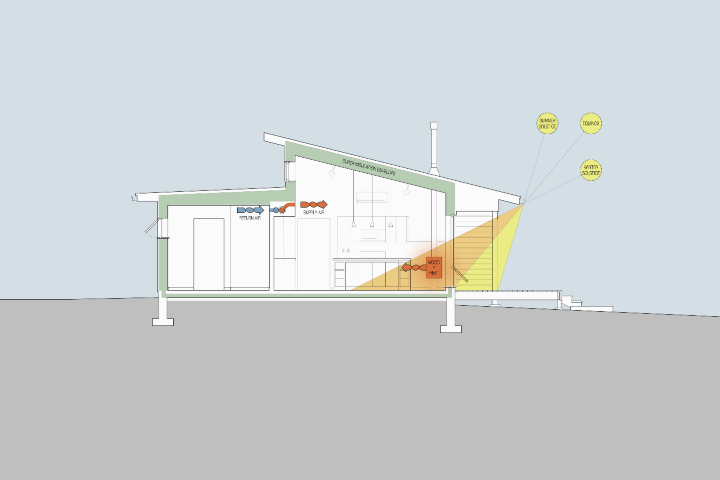 Mechanical systems integration was a major driving factor from the onset of the design process. A mechanical soffit with air ducting and electrical service runs down the central spine of the building with built in cabinetry and storage underneath, dividing the house between a vaulted great room and a low sloped service wing. Super insulated double stud wall construction provides for a tight building envelope heated and cooled by an electric heat pump powered by the solar array located on the attached garage roof. Air circulation and fresh air requirements are provided by the CERV advanced energy recovery ventilator.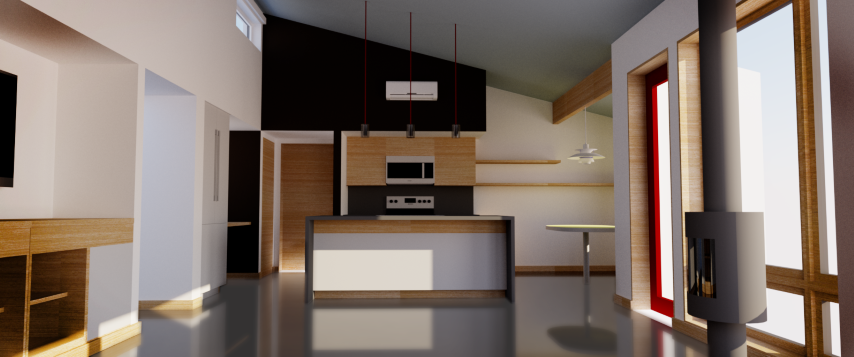 Cooking, eating, living, and sleeping are combined in the spacious vaulted shed form. Wide overhangs and passive design strategies prevent the sun from entering the space during the summer months, but allow for passive solar heating during the fall and winter with the finished concrete slab floor serving as a thermal mass for the house. An efficient floating wood stove provides additional heat by using dead wood from the surrounding forested areas as fuel. A large window wall oriented to the south and west frames views of the lake, and leads out to a wraparound deck. Clerestory windows on the high side of the main living space allow natural light and reduce the need for artificial lighting. The low sloped north portion of the house contains porch and entry space, bathrooms, and the mechanical – the Green Machine.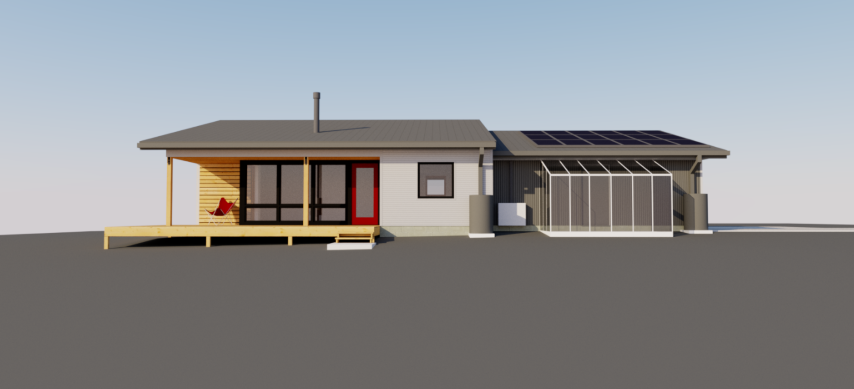 Exterior materials are low maintenance metal siding, a metal standing seam roof, and a natural cedar rainscreen on the protected front and back porches.