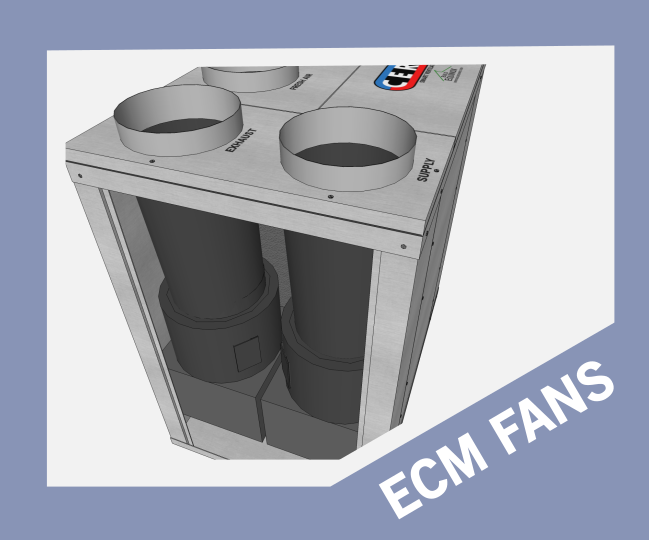 The CERV uses the latest ECM fan technology to deliver fresh air efficiently and quietly. The CERV's intelligent controls maximize fresh air delivery, ensuring your home stays fresh, comfortable, and healthy.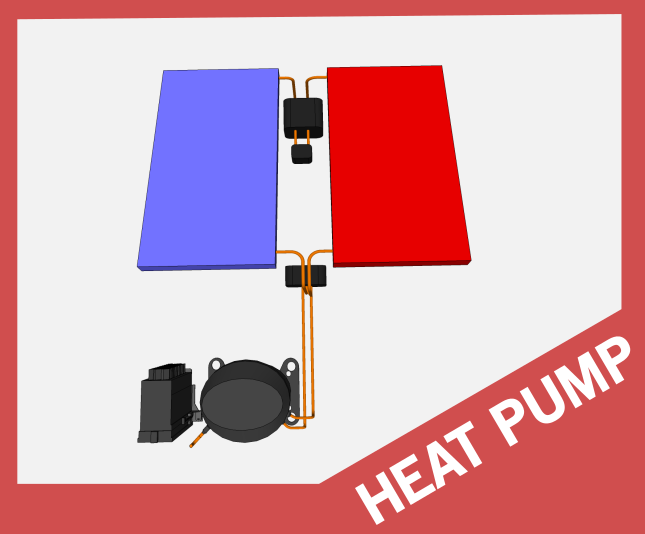 Instead of an ERV exchanger core, the CERV uses a high efficiency heat pump to exhange energy between incoming supply and outgoing exhaust air.
What does this mean?
Conditioned, comfortable air unifies the home instead of dragging exterior rooms away from comfort. In the summer, the CERV also helps with dehumidification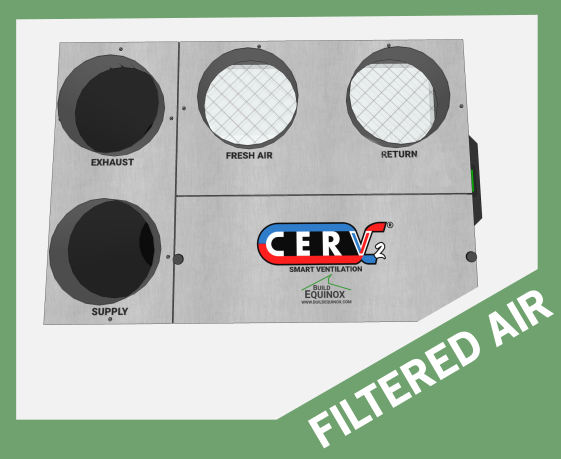 The CERV 's filter access panel allows the homeowner easy access to inspect and replace both indoor and outdoor filters. The CERV accepts standard 10x20 size, with your choice of filtration. MERV 13 comes standard with the unit.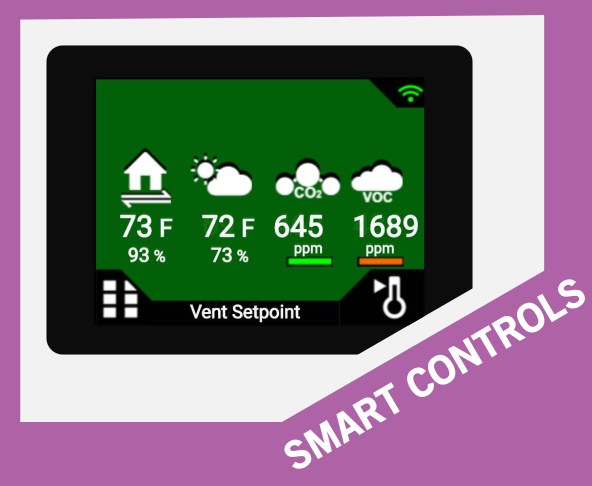 A built in 3.5" full color capacitive touchscreen makes interaction with the CERV a pleasure. Monitor your indoor air quality, change your setpoints, and configure the CERV to best suit your home and lifestyle with ease.
The CERV monitors both CO2 and Volatile Organic Compound (VOC) levels inside your home to determine when ventilation is necessary. Many gasses are undetectable to the human nose, yet can cause significant impairment to health, cognition, and sleep quality. Even though you can't smell them, the CERV can.

While the CERV is small in capacity, its capabilities are anything but. By measuring indoor and outdoor temperature and relative humidity levels, the CERV knows the most efficient way to keep your home healthy and comfortable.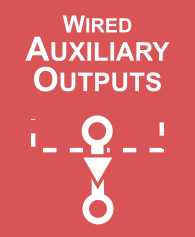 With the Wired Auxiliary Output control, the intelligence of the CERV can be expanded to other devices in your home. The CERV comes with one built in 277VAC, 15A capable dry contact relay, and another six 24VAC or dry contact (user selectable) 0.5A can be added with the I/O Expansion Board.
Available functions for Wired Auxiliary Outputs:

Heat

Cool

Vent

Humidity Removal

Humidity Addition

Heat Exchanger

Zone Damper

Fan Interlock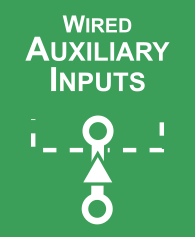 With the Wired Auxiliary Input control, the CERV can be remotely triggered to heat, cool, ventilate, etc. by other devices in your home. The CERV comes with one built in dry contact sense or 24VAC sense (user selectable, and another three can be added with the I/O Expansion Board.
Available functions for Wired Auxiliary Inputs:

Heat

Cool

Vent

Recirculation

Halt Operation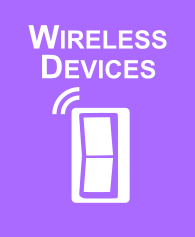 The CERV comes standard with Enocean Wireless Communication, a low power protocol for interaction with local devices. Up to 18 devices can be paired with the CERV, from wireless battery free ventilation switches and remote sensors to Active Circuit Transmitters (expanding Auxiliary Inputs) and Wireless Relays (expanding Auxiliary Outputs).
Available Wireless Devices:

Ventilation Switch

Active Circuit Transmitter

Remote Sensor

Wireless Relay

Wireless CERV Controller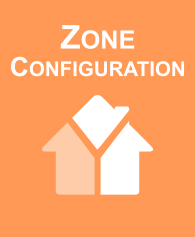 With the power of the CERV's wired and wireless inputs and outputs, the CERV can maximize your home's health and comfort through its Zone Configuration. Zone dampers installed in the ducting system can be linked to wired/wireless switches or other devices. If you're cooking in the kitchen, the CERV can prioritize kitchen ventilation. Showering? The CERV exhausts that humid bathroom air.
Zone Types

Supply

Exhaust

Active Close
Learn More in the Options Page
Electrical
Voltage Supply
120V (60hz)
Minimum Circuit Size
12A
Connection
NEMA 5-15P Plug,
6ft Cord
System
Airflow Rate
100-300 CFM
Air Filter Size
10"x20"x1"
Duct Size
8" Main
3" Utility
Condensate Drain
3/4" PVC
Sensors
Temperature
-40 to 185F
±0.36F
Relative Humidity
0 to 100%
±2%
CO2
0 to 5000ppm
±25ppm ±3%
VOC
450 to 2000 ppm
CO2 Equivalent
VOCs Detected
Alcohols, Aldehydes, Aliphatic Hydrocarbons, Amines, Aromatic Hydrocarbons, CO, CH4, LPG, Ketones, Organic Acids