Comfort Conditioning & Indoor Air Quality / ASHRAE Solar ZEB Article 9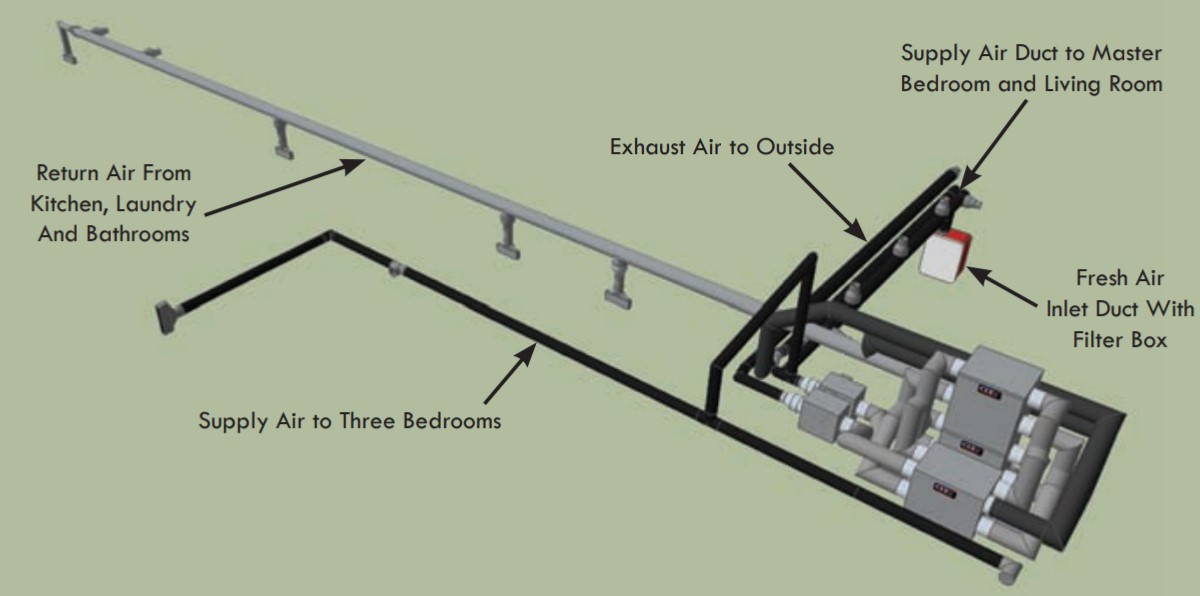 Designing for ZERO Newsletter Series:
Comfort Conditioning & Indoor Air Quality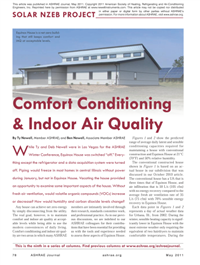 ASHRAE Solar ZEB Article 9
Equinox House is a home designed to think beyond energy. Saving energy is an important consideration, but saving energy is not the objective of a home. Don't confuse "thinking beyond energy" to mean ignoring energy. Equinox House is a very efficient, "zero-plus" energy home in a harsh climate with bitter cold, arctic blasts in the winter, and sweltering heat and humidity in the summer. And yet, it fossil fuel free and economically displaces all of its annual electric energy needs plus enough extra for 8000 miles per year of Electric Vehicle transportation provided by its 8.2kW solar PV array...without sacrificing comfort!
Our objective was an economical, sustainable, healthy, and comfortable home. Equinox House is a safe home for young children. Equinox House is a home for an elderly couple (Deb and Ty) to age-in-place. That is why so much effort was directed to many "hidden" features, such as a wheel-in shower, 3 ft wide doorways, no steps or barriers throughout, lever door handles, large wall switches, open living-dining-kitchen area, and rainwater harvesting.
Our 9th ASHRAE Journal Paper, "Comfort Conditioning & Indoor Air Quality", was published in May 2011. Deb and Ty moved into Equinox House in November 2010. The house was largely complete in July, but the custom Italian kitchen (Demode by Valcucine) arrives when Valcucine decides it should arrive, moving our planned move-in date from summer to late fall, just in time for the start of a harsh winter.
This article describes initial comfort (temperature and humidity) and air quality (carbon dioxide and VOCs) data collected from Equinox House. We initially heated Equinox House with two small electric heaters in order to characterize its comfort energy requirements. From the get-go, Equinox House maintains exceptional comfort and air quality. All rooms receive fresh, filtered air and its two minisplit heat pump units (two minisplits are more efficient than one!) easily maintain uniform comfort throughout the 2100 sqft ranch.
Does Equinox House continue to have a healthy, comfortable indoor environment? Check for yourself by going to "Take Control" in our main web screen, and view IAQ and comfort history over the past several years since we incorporated online control and over-the-air upgrading capabilities to our growing list of CERV features. And yes, that original CERV installed in 2010 continues giving us the peace-of-mind that our home is healthy.