7 Steps for Designing an Economical Net Zero Home (Video + PDF)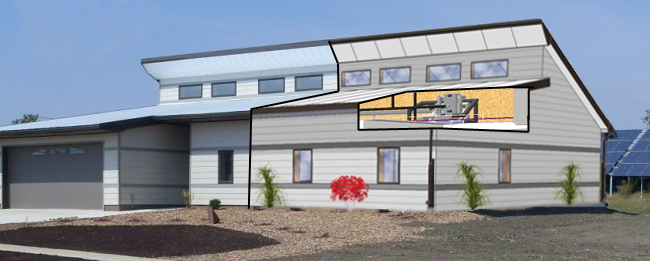 Thanks to everyone who could make it to our webinar! For those of you who'd like to watch again (or if you didn't get a chance to see it), you can find a link to the slides, as well as the full video below!

Watch the Video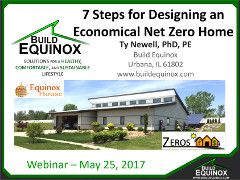 Download the Slides
Healthy, sustainable, net zero homes with electric vehicle transportation are not just nice for the environment, but more economical than conventional homes, too! Follow the steps we used to create Equinox House, a net zero home constructed in 2010 to learn how you can achieve solar powered living, too.
Ben and Ty Newell wrote a 12 month article series for the ASHRAE Journal in 2010 describing the fundamentals of an economically optimized, net zero energy house. Will a south facing window pay for itself? Why does the optimal insulation thickness depend on the efficiency of the comfort conditioning system? How do appliances impact the life cycle cost of a home? Can a home's solar PV (photovoltaic) system power an electric vehicle? Are monthly mortgage, utility, insurance, and transportation energy expenses for a solar powered home higher or lower than a conventional home?
Ty presents seven steps for designing an economically efficient, net zero home starting with the characteristics of a conventional home. Our discussion follows the impact of windows, infiltration, water heating, optimal insulation, solar energy system cost, and solar powered transportation. The most amazing result is that a net zero, solar powered home with solar powered, electric vehicle transportation has a lower a Life Cycle Cost and monthly amortization than today's conventional home.
Build Equinox's free-to-use ZEROs (Zero Energy Residential Optimization software) simulation model puts the power of net zero design in your hands, whether you live in Kokomo Indiana or Wuhan China. Read our 7 Steps Case Study report to get a head start, and join our webinar to learn more about net zero design and the pathway to energy independence in a healthy, sustainable home.
Register Now: https://attendee.gotowebinar.com/register/4140786477763950603
This webinar will be brought to you from Build Equinox's 4500 square foot, net zero, solar powered business facility located in Urbana, Illinois.