CERV Smart Ventilator Webinar (Video + PDF)
This webinar will discuss the CERV and describe its operation in different climatic conditions and building configurations. The CERV is a fresh air ventilator for residences that automatically maintains excellent indoor air quality by active control of carbon dioxide and Volatile Organic Compounds (VOCs). A heat pump is used to exchange energy between fresh air and exhaust air streams when energy exchange is beneficial. Online monitoring capability, local exhaust boost mode, Geo-Boost heat exchanger, and zone dampers (multi-family) are some of the CERV's options.
Thanks to everyone who could make it to the CERV product demo webinar! For those of you who'd like to watch again (or if you didn't get a chance to see it), you can find a link to the slides, as well as the full video below!

Watch the Video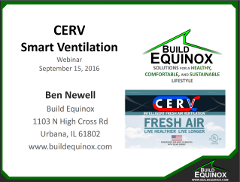 Download the Slides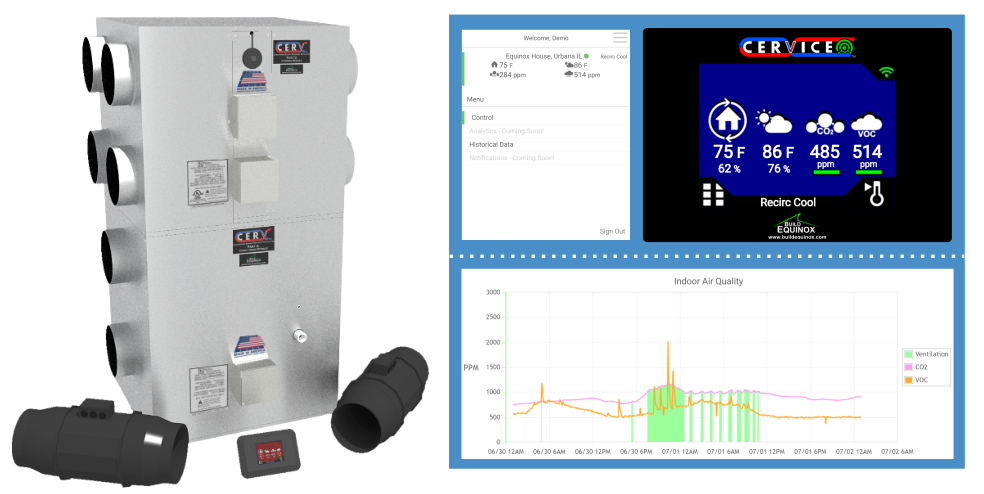 Topic Outline
1) What is Smart Ventilation and why is it important
2) Smart Ventilation and ASHRAE 62.2-2016 ventilation standards
3) CERV smart ventilation system
4) CERV operation modes
5) Field data (air quality, comfort and energy) results from several homes
6) CERV-ICE on-line control and data collection
7) Summary
This webinar is presented by Build Equinox, a leader in fresh air ventilation technology. Build Equinox manufactures the CERV smart ventilation system that automatically monitors and controls indoor pollutants in homes. The CERV is manufactured in Build Equinox's solar powered facility located in Urbana, Illinois.